As a business owner, you certainly want to make decisions in the best interest of your company. But sometimes, when you're presented with a lot of options, making decisions could seem overwhelming.
And business signage is one area where there are plenty of options to choose from.
Since we don't want all the options to be overwhelming and mind-boggling, today we'll offer some basic sign definitions to help clear things up.
Sign definitions
Interestingly, some signs could actually fit into more than one of these sign definitions at once. So, keep in mind as you read through that these aren't necessarily hard fast lines or rules. To help you understand the purpose of each sign a little better, we've also included fictitious examples of how businesses and organizations might utilize them.
ADA signs / engraving
ADA signs are designed to be compliant with the Americans with Disabilities Act (ADA) of 1990. And they may have visuals, writing, and/or Braille engraving. They could mark handicapped parking or wheelchair accessible entrances. And they could include high-visibility ADA compliant directional way-finding signs & braille room plaques.
Example: Sushi Spot, a newly-opened restaurant, needs a sign to highlight that there is a wheelchair accessible entrance to their building.
Banner
A flat yet flexible sign that is printed with a message to be hung on a surface like an interior or exterior wall (or a fence). Often made of vinyl. Can include words & graphics. May be made of mesh to allow air passage.
Example: Southside Karate Studio hopes to enroll the maximum number of students in their summer Karate4Kids class. So, they decide to print a banner for their building's exterior. With stunning graphics, they promote their 6-week class, including its great pricing and sign-up date.
Channel letters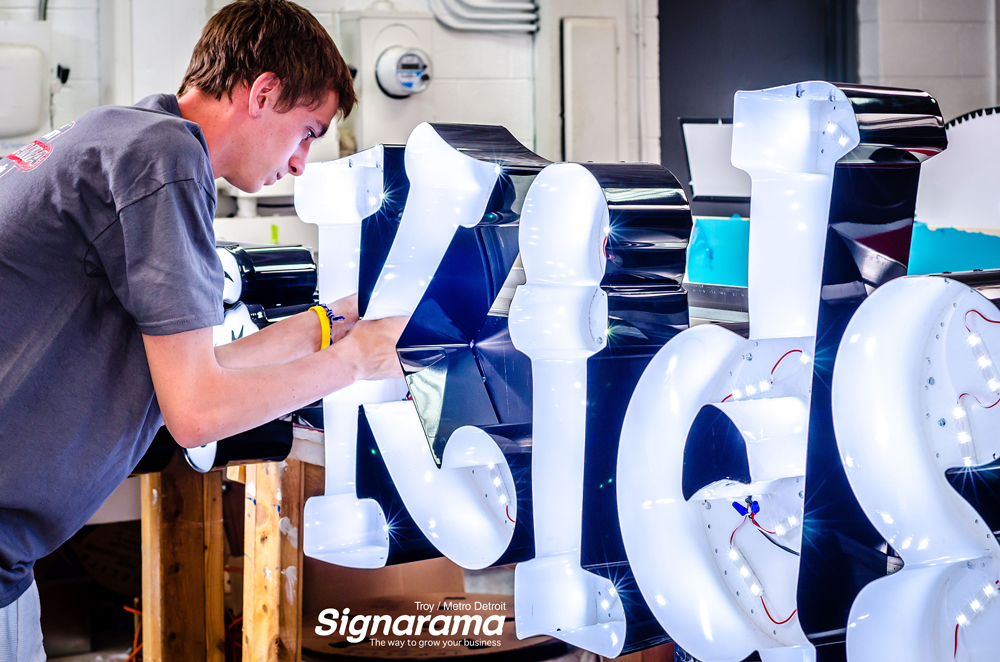 Customizable letters that are most commonly used on the exterior of a building outside a storefront, strip mall, public buildings & offices. Often channel letters are front lit, meaning the illumination comes from the front of the letter through the sign face. But they can also be backlit (halo) with the light coming from behind.
Example: Berryville Meat Market stays open late because a lot of their customers work from 9 AM to 5 PM. Since they're open for business even after the sun goes down, they know they need signage that's going to be visible in the dark. Thus, they're selecting front lit, red letters that complement their gray logo and their red front entrance.
Dimensional letters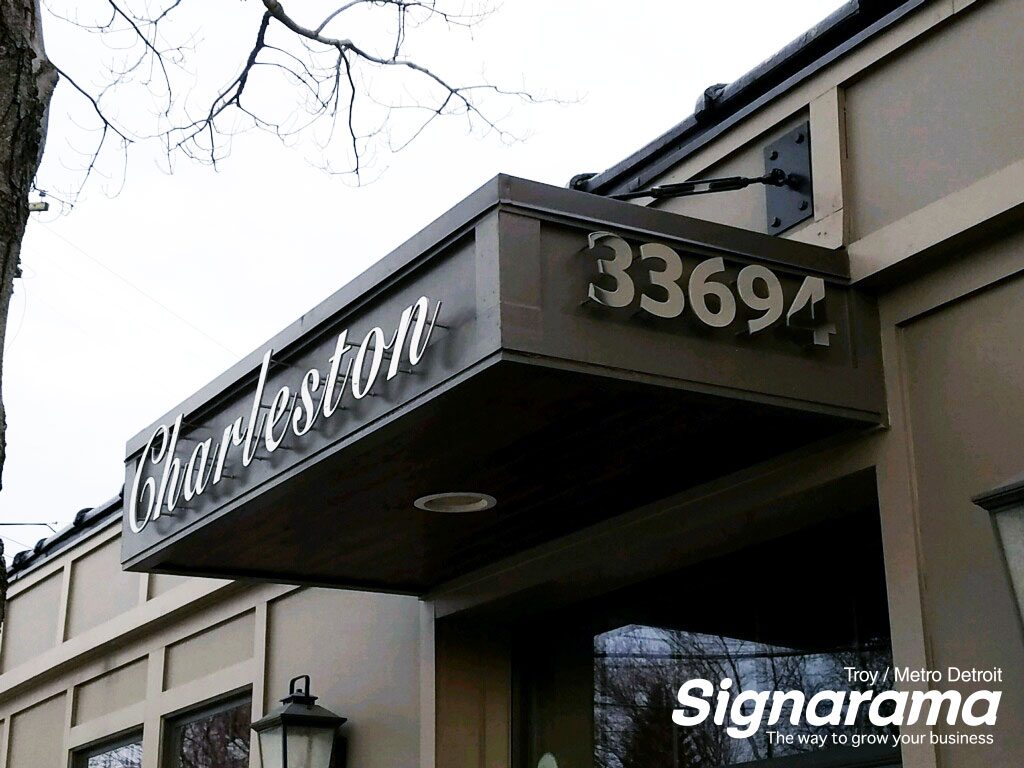 3D letters used indoors or outdoors as signage. See also channel letters.
Example: Dinotto manufactures artisan Greek yogurt. They ship worldwide from their 50,000 square-foot facility. Until now, they've had a bland sign at the end of the facility's driveway. Now, they want halo-lit metallic dimensional letters on their building's facade (which faces the highway).
Donor recognition walls
Walls that show appreciation for those who have contributed to an organization's success. May list names of individual donors or even companies. Also, may be constructed with different materials like metal, plastic, and wood.
Example: A local community college almost closed its doors for good last year. However, individuals and businesses in the community rallied around it. And thanks to their generous support, the college raised all the money it needed. College administrators and board members want to set up a donor wall with separate tiles grouped according to how much individuals or entities contributed.
Floor graphics
Designs and messages constructed on a floor (including floors of carpet, ceramic tile, or concrete). At Signarama, we construct them using heavy-duty floor laminate. Possible applications: tradeshows, grocery store aisles, gym floors, in-store retail promotions, hotel lobbies, casino carpeting, school hallways, sports arena steps, concrete warehouse floors, & sidewalks.
Example: Fast Forward Fitness has constructed a gigantic complex with something for everyone in the community. They're trying to combat their area's lax attitude toward health & wellness. Thus, they created a 3-mile sidewalk that loops around and through their complex. And they used floor graphics to create colorful and motivating sidewalks with games exercisers can play as they walk.
Interior light boxes
3D signs with illumination on the inside and a message or logo on the exterior surface. May be rectangular, square, or circle.
Example: Elegance Salon incorporated their logo into an interior light box. Then, they placed it on their sign-in desk alongside a dish of free candies in salon-branded wrappers.  
LED message centers
An electronic display that can be changed as desired. Not only can you personalize the words, but you may also be able to change how it's displayed. For instance, the sign may display a message statically. Or it may present one message after another (slideshow). On the other hand, it may display words in succession (rolling messages).
Example: The Mount Terrence Volunteer Fire Department wants a way to communicate better with the community. They selected an LED message center so they can change their message according to their own and community needs. For their first week, it will announce: "We need firefighters—sign up today!" Then, next week, they'll wish the very best to their local Little League team.
Lobby signs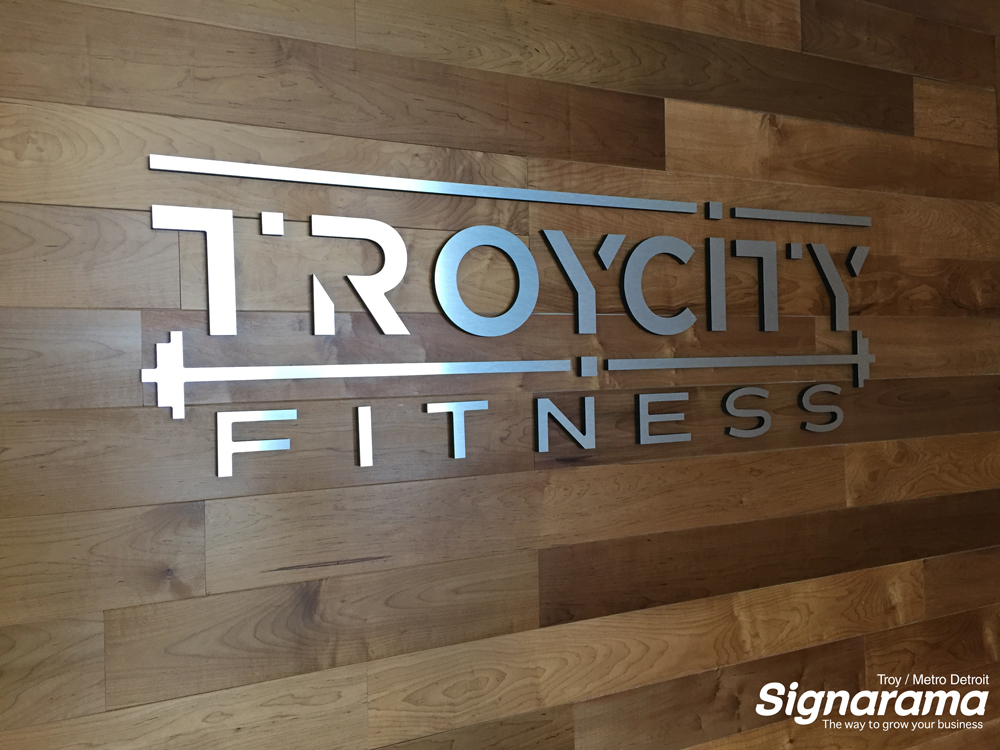 Signs placed in a building's lobby or other interior areas. May display the company or organization's name by placing it prominently on a wall. And may be constructed using plastic, metal, or foam dimensional letters.
Example: Taylor, Tarrantino, Payne, & Willis, Attorneys at Law have experienced 30% revenue growth year after year since their inception 15 years ago. As a result, they're ready for an office upgrade. And they secured one of the first available suites in a brand new high rise building. They have a lot of freedom to design the new area. So, they're choosing to use cursive bronze-finish letters spelling out the company's name on the main lobby wall.
Meeting & event signs
Signs designed and constructed for a particular occasion. Thus, this could include many different types of signs. For instance, it could take any of the following forms: pop-up displays, directional signs for meeting spaces, bulletin board signs, crowd control/directional signs, easel foamcore or coroplast signs, full color banners, temporary wall graphics, custom dye sublimated table covers / throws, photo standups, feather flag banners, fundraising thermometer signs, floor graphics, outdoor directories, & custom scoreboards.
Example: The Fight Alzheimer's Coalition of Thompson (FACT) is holding an informational & inspirational meeting for their own city and others nearby. Since their theme is Hang in & Help Out, they know they'll need these words alongside graphics and other information. Consequently, they're looking for printed yard signs, at least 5 full-color banners (to place around the area), and a pop-up display for their sign-in table.
Menu boards
Signs inside or outside restaurants, food trucks, ice cream shops, etc. listing available food options. Check out our tips for food truck menu design.
Example: Charlotte's Candy Treats has both a storefront and food truck. And that means that the company needs menu boards for both setups. So, for the food truck, they want a custom designed A-frame that they can easily put up at the beginning of the day. It won't list all their options so they'll have some painted signs on the truck itself. Then, they'll need a sign (or several) on the wall behind the counter at their storefront. Plus, they want an A-frame sidewalk sign so when their signature cotton candy truffles are available, they can alert patrons.
Monument signs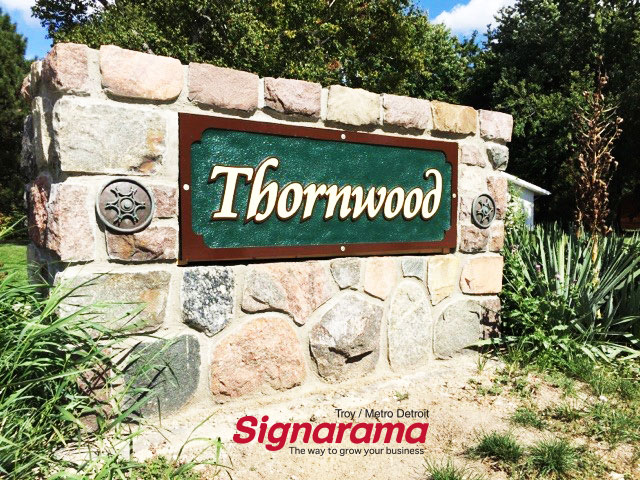 Signs placed on or near the ground in an organization or company's yard. These signs may be near the road or at the end of a driveway announcing the presence of a business, church, office park, or apartment complex. And they may be made of stone, brick, or wood (or at least appear to be). Actually, we recently dug into monument signs.
Example: Tarwood Pediatric Dentistry just opened in a leased office space. There is no existing signage at the road. But, of course, the business does want to be seen. So, they're electing to use a monument sign constructed of a panel resting on and between gray, stacked stone.
Neon signs
Signs made of illuminated tubing. Sometimes, these are displayed in windows (think of the classic "Open" sign) or on walls. Also, they may be multicolored, a single color, or they may be a simple yellow or white light.
Example: A children's bookstore wants to go beyond the classic illuminated "Open" sign in their front window. Instead, they're having a neon sign constructed for them. It will be a brightly-colored outline of a child reading a book with the word "open" beneath. Whenever the store is open, the sign will be illuminated.
Point of purchase displays
Marketing materials and signs used to enhance products for sale in a retail environment. Generally located in the checkout area or other location where the purchase decision is made, these displays are meant to help increase unplanned purchases. Could include kiosks, end cap displays, checkout countersigns, and ceiling hanging signs.
Example: A roadside convenience store is trying to sell more locally-made products. Since there's a small chocolate company in a nearby town, they're beginning a partnership with them. Thus, they want a customized point of purchase display that gets the candy right by the checkout. That way, passing motorists who stop for a snack or a soda can't help but see it.
Pole or pylon signs
Tall signs that may be supported by a pole or poles.
Example: A new shopping center is home to three apparel and accessories stores. Plus, there's also a bookstore, four restaurants, and a petstore. A pylon sign at the edge of the parking lot ensures that drivers on nearby roads will be able to see what's available in the center.  
Post & panel signs
A message-containing surface placed between two posts. Often, they're meant to be short term (as in real estate signs or construction & development sites). However, they can be manufactured out of durable materials to provide a long-lasting solution as well.
Safety signs & decals
Signs to improve or demonstrate the safety level of your facility. This could include caution signs, biohazard Signs, chemical hazard and identification signs, ANSI signs, danger signs, and more.
Example: Tracta Labs uses chemicals to manufacture consumer products like perfumes. But they have to make sure that chemicals that could be hazardous are stored properly and appropriately. Certainly, they want their entire environment to be safe. So, they need a sign company that can manufacture chemical hazard & identification signs for them.
Tradeshow displays & exhibits
Short-term or portable signage for use at business events. May include a pop-up display with a full back wall.
Example: GenTen Technologies relies on tradeshows and conventions to reach future clients and connect with current ones. And they're highly-skilled (experts, actually) at what they do. Thus, they want their signage to reflect the quality of service they provide. That's why not just any convention setup will do. Instead, they opt for a full back wall with their logo.
Vehicle wraps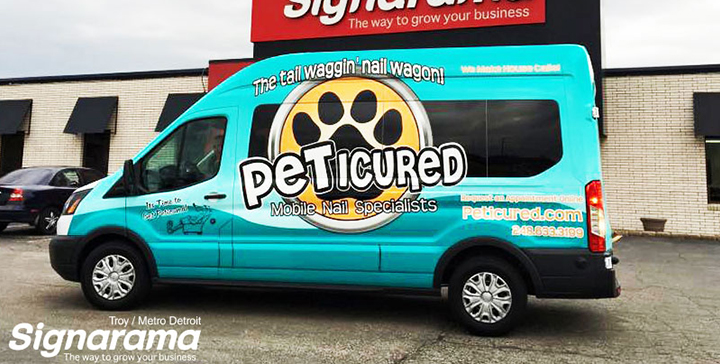 Signs that extend over the surface of a car, van, trailer, or food truck.
Example: Unplugged is a 24-hour plumbing service that promises to get your water and sewer problems fixed in a day. With five vehicles on their fleet, they've decided it's time for some uniformity. So, they're getting vehicle wraps for each one.
Wall murals & wraps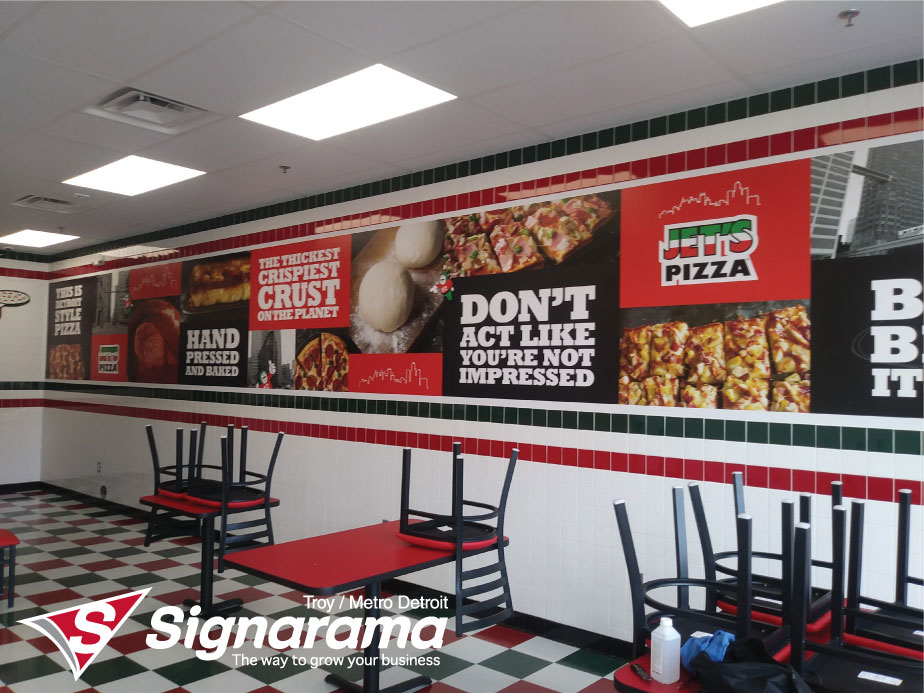 Signs designed to to be applied to wall surfaces. Can spread the message and artwork over the space of an entire wall or more with custom designed wallpaper vinyl.
Example: The Ruckville Public Library has recieved a grant to renovate their children's area. So, they're planning a full-wall mural depicting heroes from American history.
Wayfinding signs
Signs alerting viewers which way to go to reach their destination. May appear outside a large complex of buildings or inside a multitenant building.
Example: The Wharton Memorial Hospital is a sprawling complex. Many times, patients express frustration at not being able to find the right building and office in time for their appointment. Thus, the hospital has designated a portion of next year's budget to purchase wayfinding signs for seven key locations on the campus.
Window graphics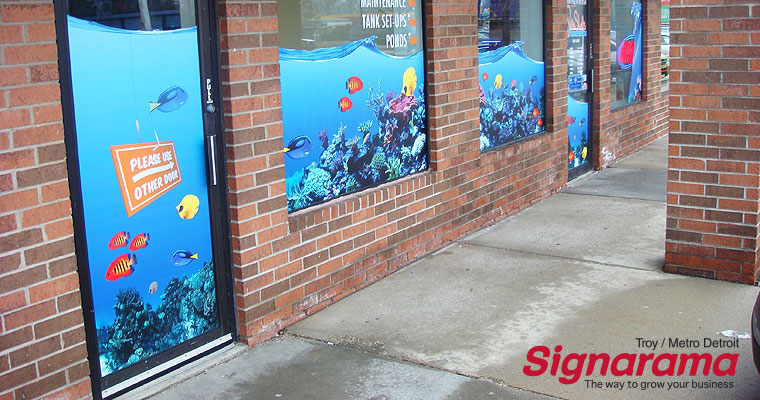 Images, logos, & text displayed on a window. May include standard vinyl, perforated vinyl, or etched "glass" vinyl window graphics.
Example: Jack & Jill's Gelateria sells delicious gelato. While they already have a sign above their entrance, they would like their hours posted on their plate glass window. Instead of using a paper or electronic sign, they choose window graphics with the appearance of etched glass. However, they're grateful they can have the etched look for a very reasonable price tag.
Yard signs
Signs designed to be inserted in the ground. Usually, they're made of a corrugated plastic called coroplast. And they're often placed on metal prongs which can be stuck in the dirt of a lawn or other location.
Example: John Brandt isn't very happy with what his city council members have been doing (or rather not doing). In fact, his neighbors are also disappointed. One of them suggests John run for a seat himself, and the others agree. So, John decides to do just that. Naturally, one of his strategies for reaching voters in the area is to plant yard signs all over the district.
Beyond sign definitions
Of course, there's plenty of other relevant sign terminology we passed over in this article. So head over to Sign Terminology: Negative Space, Optimal Distance, Typography & More if you still have questions. And once you select what kind of sign you want, you can begin planning your sign content. Start with Tips And Tricks To Creating The Most Effective Signs For Marketing. Then, take a look at The Importance Of Good Signage & The Psychology Behind How It Works.