A business owner looking for signs is like a kid in a candy store. There is a vast variety of options to choose from. Each of them is better for reaching specific goals. That's why it's critical to know your stuff before selecting a product.
Whether you want to provide some information or want to promote your company, it is essential to do a bit of research. Read on to learn more from our guide to types of signage and their uses.
Types of signage
The options that we are going to discuss fall into several categories. Here are a few of the primary groupings:
Outdoor signs: These items are some of the most critical assets in an advertiser's toolbox. They are all about increasing exposure. Often they will be placed right outside your physical location. Otherwise, they can be put up in strategic spots in the local area.
Indoor signs: You can use indoor signage for a variety of purposes. They typically work best at your physical location. Many of them are aimed at informing potential customers about things. Other times they are meant to advertise specific aspects of the business.
Persuasive signage: One of the most exciting uses of signage is to promote your business, service or product. So many products are made primarily to do this. They are great at persuading your customers to engage with your company in some way.
Informational signs: Remember that not all signage is meant for advertising. You also need a platform to convey info through. This group includes things like way finders, directional signage, and menu boards among other things. They will often be at or near your place of business.
Deciding which of these groups will work for you can be a fantastic place to start. Let's move on to looking at the specific types of signage in more detail.
1- Window graphics
The first kind of signs that we are going to talk about is window graphics. They are usually made from vinyl or perforated vinyl that has images printed on it. You fix them to your store's window.
There are tons of customization options to work with. If you want to, you can use graphics that cover the entire space. Otherwise, you can go with smaller images or a few lines of text, whatever suits your goal.
This striking platform has more than one purpose. Because it is part of your physical location, it can become part of the decor for your storefront.
On top of this, you can use it as promotions for your products or services. You can use them to increase walk-ins to your location. Or you can use them to convey information like your trading hours.
2- Murals and wraps
These are another product type that you can place on the wall of your storefront.
Manufacturers mostly print these wraps on vinyl. This material makes the surface look shiny and vibrant.
But it's vital to try to have yours professionally done. You don't want it to become shabby too quickly and drag down the appearance of your storefront. Well-made examples of these signs are water resistant so that you can clean them with water and soap.
Murals and wraps are a great option if you want to spruce up your store. You can advertise aspects of your business, focus on aesthetic appeal, or aim to inspire.
3- A-frame sidewalk signs
Sidewalk signs are outdoor products, which are lightweight and cost-effective. Besides this people love them because they can be moved around as you want.
It is all about grabbing passersby attention. So, make it pop. Use catchy phrases and vibrant colors to draw people's eye.
You can usually put them on the sidewalk in front of your physical location. Or in the vicinity of your store. These are the areas where it will have the most impact.
Here are a few productive uses of A-frame sidewalk signs:
You can use them to point potential customers in the direction of your business. Put it at the other end of the street and indicate the route to your place.
Print your menu on the sign. Customers find it super convenient when they can see what's on offer without even stepping foot in the restaurant.
Use the board to inform customers about your trading hours and other important info.
Show-off in-store promotions and specials. It can be the ideal way to entice potential customers to support your business.
4- Vehicle graphics
Talk about moveable. You don't get much more mobile than that vehicle graphics. They are wraps that you can have fixed to any means of transport.
If you have business vehicles, you can mark them with these. But you can even stick them onto your own automobiles for extra exposure.
The best feature of these signs is that they will move around wherever you go without any extra effort. You can use them to promote your business and distribute important info like your contact details and location.
A pro tip is to go for laminated wrapping material. This can boost its lifetime and give you much more value for your money.
5- Floor graphics
In contemporary advertising and business, any and every surface is fair game – this includes floors.
Floor graphics are a great resource that you can use. You can use them to point out directions or specials in your physical location. But they also make brilliant advertisements.
Make sure that you get decals with heavy duty laminate to keep them in tip-top shape.
Don't be afraid to get creative. There are no limits to what you can do with these products. Here are some fantastic graphics examples to inspire you.
6- Banner Signs
One of the most popular signage products is banners. They don't go out of style.
A key benefit of this product is that they are low cost yet they can be super useful.
Banners are commonly used to advertise events like conferences or opening events. However, you can also use them to promote your business on a longer-term basis.
The signs are extremely customizable. Printers usually have a wide range of sizes, shapes, and every color under the sun available.
You can use them inside or outside. But make sure that you let your printer know beforehand how you plan to use your banner. And ask if the company has heavy duty material for outdoor spaces.
7- Safety signs & decals
All businesses need to take necessary safety precautions. An essential part of this is to use symbols to warn of any hazards or inform people of any rules that are there to keep everyone safe.
There are policies which indicate what signage each business should put up.
Here are a few possible signs:
General danger signs
Electrical safety sign
Biohazard sign
Chemical hazard sign
High voltage warning
Fire escape signs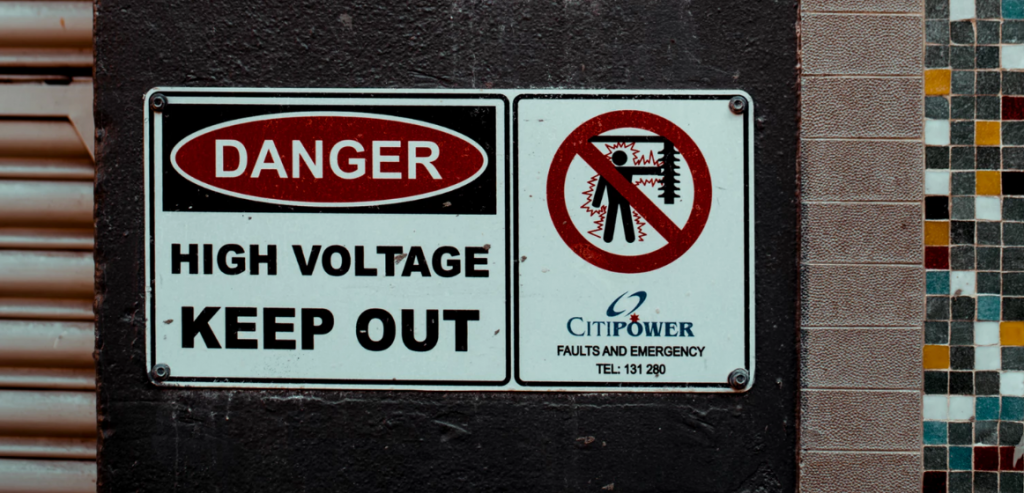 You can have these printed on aluminum-backed boards or sticker type decals.
Take a look at this article for more information on safety signs that you need in your business.
8- Letters
No matter what your business is, you will be looking for a way to inform people about your name. It is usually put up right in front of your physical location on the wall. One way to do this is to use letter signs.
You can use these to spell out anything you want, and you can even choose the font.
There are a variety of types that you can try. Two of the most common ones are dimensional letters and channel letters.
Dimensional ones are 3D signs that can help you make sure that your name stands out.
Channel letters are plastic or aluminum. They are also three dimensional. But what makes them different is that they are lit up in some way. You can light them up with neon or LED from the back or front.
9- Monument signs
Another exterior sign is monument signs. These are freestanding pieces that generally sit low down on the ground.
You really have lots of options with these boards. Mostly you will have control over the sign and the actual base on which you fit it. The structure is often built from masonry or a combination of this and metal.
These signs tend to look very prestigious and grand.
You can use them to indicate the name of a business, directions, or a place.
10- Pylon signs
Pylon signs are also a freestanding structure. Most essentially, they are board that you place on top of a pole or poles. But other than that, the sky's the limit.
Like with many other signs you can customize these from top to bottom. You can decide on the size, shape, height and even amount of boards on the pole. For example, many office parks or shopping complexes have a tall pylon sign with different sections for every business.
Therefore, these products can be used to give directions, advertise something or inform people of a place's name.
11- Yard signs
If you are looking for a temporary solution, yard signs can be the way to go. These products are boards corrugated plastic called coroplast on which you can print graphics or information.
Lightweight and water-resistant these pieces give you real bang for your buck. They can work well if you are working on a budget. You can typically secure them to some poles and move them around as you need them.
All of these features means that they are particularly popular with real estate agents to advertise specific properties. Yard signs are brilliant for events too.
12- LED message centers
But what if you are looking for a sign that can be changed daily or even more than once a day?
Electronic message centers could be the right choice for you. They are computerized boards that display messages in LED lights. Letters and numbers can move across the screen or flash in turns. So there is almost no limit as to how much content you can display.
Their most common purpose is to convey essential messages or information. That is why schools, churches among other organizations love to use them.
You can mount the LED section of the board on a sign that gives more information like the name of the business.
13- Menu boards
Nowadays, running a successful restaurant is about more than just cooking delicious food. It also requires effective promotions and a pleasant atmosphere.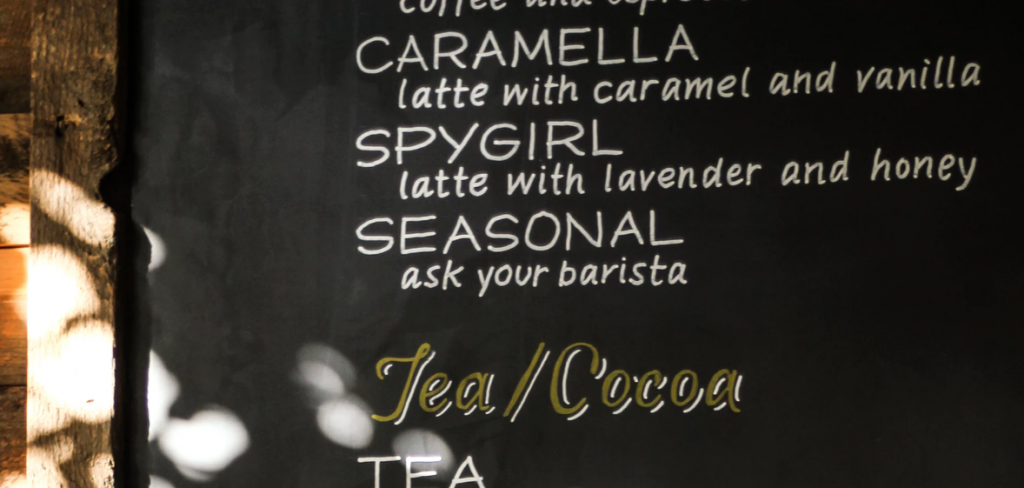 A core part of any restaurant, takeaway, or cafe is their menu board. It is an essential piece of signage which tells your customers everything they need to know about your menu. That is why it is vital that it fits the personality of your business and appeals to your clients.
The following are four common types of menu boards:
Static-printed menu boards: These are a great option for places whose menu doesn't change often. Owners often put them into snap frames so that they can change them out when they do make changes. They are very inexpensive.
Dry erase menu board: These are signs that manufacturers print on a laminate material. You have the ability to write on these, erase specials, change prices, and so on. These are the product for you if you make frequent changes.
Magnetic menu boards: People make this product out of magnets so that you can exchange certain pieces of it. This is why they work well if you offer specific items on specific days.
Digital screen menu boards: These are the newest menu signs on the market. For many owners, they are the perfect solution because you can change them as often as you want without extra printing costs. You can even show videos on the board.
Effective signage
These are most of the primary types of signage that are available. They cater to all kinds of budgets and goals. But it is by no means an exhaustive list.
We make all of these categories of signs and more at Signarama. And we can help you to turn your vision into reality. For a complete list, here are the types of signage that we offer.
Besides choosing the right product, it is crucial that you focus on every aspect of the sign's design. It is a vital part of making it as impactful as possible.