Sports play a large role in American culture today. Whether your favorite sport is baseball, football, hockey, basketball, soccer, golf, or even Ultimate Frisbee, sometimes you want to show your team spirit. That's where signs come in. Signs are a great way to say what you want to say. And you can say it without tiring out your voice or being present in-person the whole time.
Obviously, Detroit has a lot to offer when it comes to sports. With the 4 major leagues represented in the city, you might say Detroit has all the sports. Need convincing? Take it from Click On Detroit: Pistons move makes Detroit only North American city with 4 pro teams in its downtown.
Thus, the city not only has teams, but it also has team spirit. And when you want to express your team spirit, what better way than with a sign? Maybe you're looking for something to display outside your house or your company. Or it could be time for a sign outside—so it can be seen by pedestrians and drivers, too. Whatever you want to say, let's look at some signs that can reflect how you feel about your team.
Say it outside
When you need to align yourself with your team outside a building, you have several options.
LED sign – Start with an LED message center. Here's a sign option that's perfect for those of you who want to change the message from time to time. (Or even change the message frequently). With an LED sign, you can personalize the sign to celebrate team wins. And your company can build rapport with the community by celebrating the victories of local school or community sports leagues.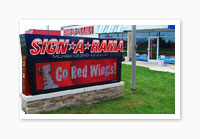 Monument sign – Sometimes, you may need a sign that isn't going to change—something with an air of permanence. Let's say you're celebrating a team accomplishment like a series of victories, for instance (maybe even years of victories). Then a monument sign might be the order of the day. From its spot at the entrance to a city or district, it can announce "Welcome to ___ (name of team) Country." Or it could list an achievement like your number of championship wins.
Parking signs – Sometimes you have to mark your turf. And for sports fans that could include their parking spaces. So, you might just be looking for a playful parking sign that restricts a space to vehicles transporting fans of a particular team. For instance, you might need a "Parking for Detroit Lions fans only" sign.
And, don't forget yard signs and vehicle graphics, too.
Say it inside
When what you say is going to be inside a building, you still have more than one way to go. Check out these ideas.
Wall murals – What better way to commemorate something like NBA championship wins than with a whole wall? Wall murals are eye-catching and give you a lot of space to work with. Also, if you're looking for something hard to miss, then you should definitely keep this option on the table. (Or should we say "on the wall"?)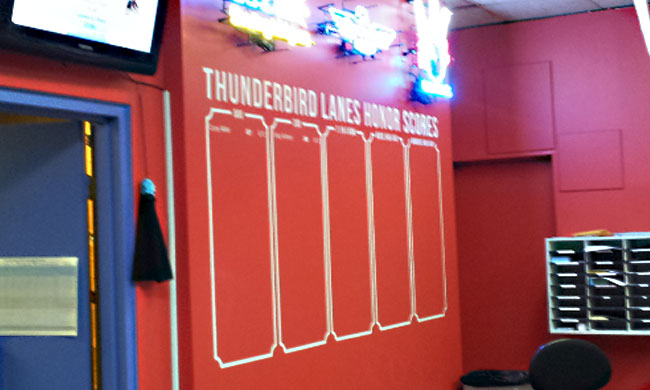 Floor graphics – No walls available in your space? Then how about finding an underused area to show your team spirit—namely, the floor.
Meeting & event signs – If you're celebrating your team at an indoor event, plan ahead and get event signs customized for the occasion. For example, secure printed table covers, photo standups, or pop-up displays.
Inside, outside, everywhere
Some signs can help you speak up inside or outside. See if any of these signs is right for your business or home.
Banners – Here's a way to communicate the joy and celebration surrounding a win. Plus, banners can also share your message of support—letting your team know you stand behind them. You can use them for parties or even to let others know about a sporting event. And you can get them in on the action congratulating a team or even a particular player.
Neon signs – When we say neon signs, the illuminated window signs that tell customers a business is open may come to mind. But that's not their only application. Neon signs could take their place outside or inside your building, shedding fan fervor and light at the same time.
Learn & dive in
Maybe all this sign talk has you curious about what type of signs are out there. So head to A Comprehensive Guide To The Different Types Of Signage & Their Uses to learn more. And if you're ready to get started on a sign, you need a sign company. Be sure to check out What To Look For From A Sign Making Company + Questions To Ask