Nowadays, stores not only need to compete with other business in the local area. But they compete with online retailers too. That's why it's more critical than ever to look for ways to draw in crowds.
If you feel like you need to attract more customers to your shopping center you might want to take a look at your advertising. Whether you own a mall or a small retail park, signs can play a crucial role in this.
Today, we are going to look at how you can create the perfect shopping center sign to attract clients. To do this, we will first look at tips on design then at a few useful examples.
Purpose of the sign
Before anything else, you need to figure out what you want to achieve with the sign. Do you want to promote the center? Are you looking for a way to show your customers where to go?
There are several different uses that signage can serve at a shopping center. Here are the main ones:
Name board: You need a sign to indicate the name of the shopping center. This will not only help guide people to the park but give you exposure to.
Directions: You will need signage to give your potential customers direction. It can point out critical places like parking spots specific business and bathrooms.
Safety: Another essential purpose is to use signs to warn people of potential hazards. Remember that this is important for legal protection and the insurance policies of your business as well.
Information: Besides this, you will need to convey other relevant information to any customers. For example, which stores are at the center and so on.
Promotional: One of the most critical uses of signs will be to advertise your retail park.
Highlights: A rather unique use of signage in shopping centers is to point out its highlights. You can show off the most lucrative and exciting business in the park or landmarks and even art installations that might be of interest.
To make your shopping center successful, you will probably need to invest in a few of all of these types.
Grab attention
The first step to attracting new customers is always to be noticed. You need to catch their attention and get them interested.
One of the best ways to do this is by using signs, well-designed signs.
You need to design them to catch your audience's attention. When it comes to advertisements and name boards, this aspect is particularly important.
So how do you achieve this?
Go big or go home: This principle is pretty simple. You need to make signs large enough to be noticed. This doesn't only mean the size of the sign. You shouldn't make its contents so small that it isn't legible to the audience.
Color it in: Colors are an essential tool in advertising and design. Bright shades are highly visible, and you can certainly use them to grab potential customers attention. Besides this, the colors you use can make your signs more appealing and therefore more useful. If you want more information, check out which colors are the best at increasing sales.
Light: Nothing catches the eye like a flash of light. Lights will clearly work best at night but can still increase visibility during the day. If you don't want to actually install LEDs or other bulbs you can even create a fantastically shiny effect with reflective surfaces.
Bold: All of these factors can be summed up in one word: bold. You want to make your sign as striking as possible while still being stylish and straightforward.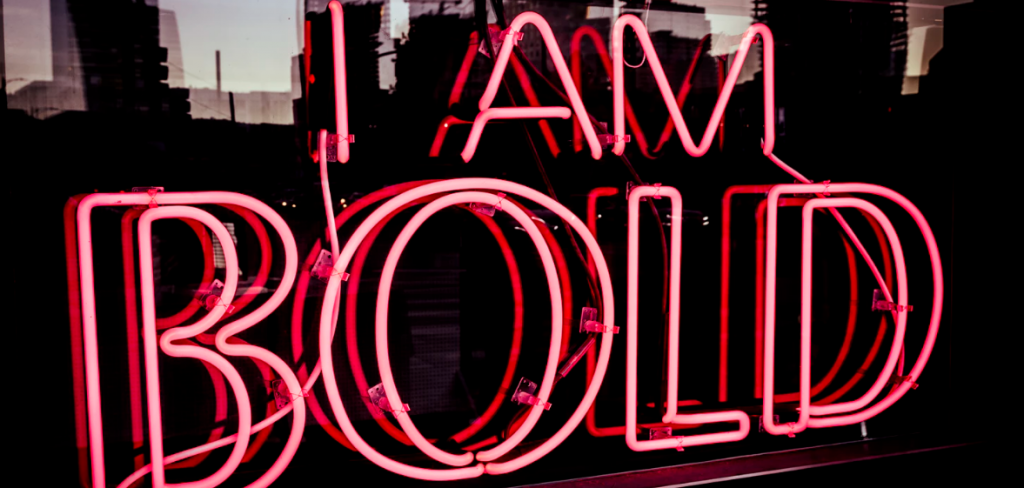 Placement
But making a great sign isn't enough. You need to pay attention to where it will be put up to make sure it helps you achieve your goal.
The most significant factor when considering their placement is the purpose of the sign. It all depends on whether you want to reach customers who are outside or already inside the center.
For example, the purpose of name boards is to indicate the name and location of the retail park and specific stores in it. That is why they should be placed near the entrance of the center. You might also want to put some next to the roadway leading up to it. These are the places where the products will be the most effective at attracting customers.
On the other hand, advertisements can be put in a much more extensive range of spots. You can place a few of these signs right outside the center. But you can also place them throughout the local neighborhood.
However, this isn't the only consideration. You need to be concerned with how visible the sign would be in its specific location. Ask yourself where most people will be able to see it, and you will get the most exposure.
Atmosphere
No matter its purpose, you can use signs to help create your center's atmosphere. In the case of name boards, they are the first thing that people see when they arrive at your location. First impressions are vital, so try to make yours count.
You might be surprised how much can be conveyed through simple letters and graphics on signs. They can be used to create emotional appeal, persuade people, and compel people to take action. Therefore, you can also use them to create the feel of your shopping center.
The right atmosphere can help to attract crowds to your business. Significantly, it can keep them coming back and help you to ensure their loyalty and future support.
Before you can move forward, you should decide what type of environment you want. Is it your goal to create a premium shopping experience? Do you want your customers to see it as a fun place to hang out?
Several elements on signage can contribute to these effects:
Color: Bright and neon colors can help to create a casual yet upbeat and fun environment.
Font: Different fonts have different effects on people. Script lettering will look elegant and formal. On the other hand, sans serif fonts can look neater and evoke ideas of modernity.
Wording: Words are powerful. They can create strong emotions. We certainly have different connotations with different terms.
Materials: The material that you use for the sign could also have an effect. Glass and metal often look quite premium.
Choosing the right product
A pivotal choice to make regarding your shopping center sign is which type of sign you are going to go with. There are hundreds of varieties available, but there are a few products which work particularly well at retail parks.
Ask yourself these questions to help you determine which is the ideal solution for your business:
How much can you spend on signage?
What do you want to achieve with this specific sign?
Where will you put the sign?
What size and shape do you want it to be?
How long does it need to last?
Once you have answered these, you are ready to go talk to signage professionals. They will be able to take this information and suggest which of their products are right for you.
Now let's look at some of the most common types of signs that can be used at shopping centers.
Billboard
One potential shopping center sign is the billboard. Billboards are large advertising structures that are used outdoors. You will typically find them in high traffic areas, often literally speaking over and along highways. They are used to appeal to both pedestrians and people in cars.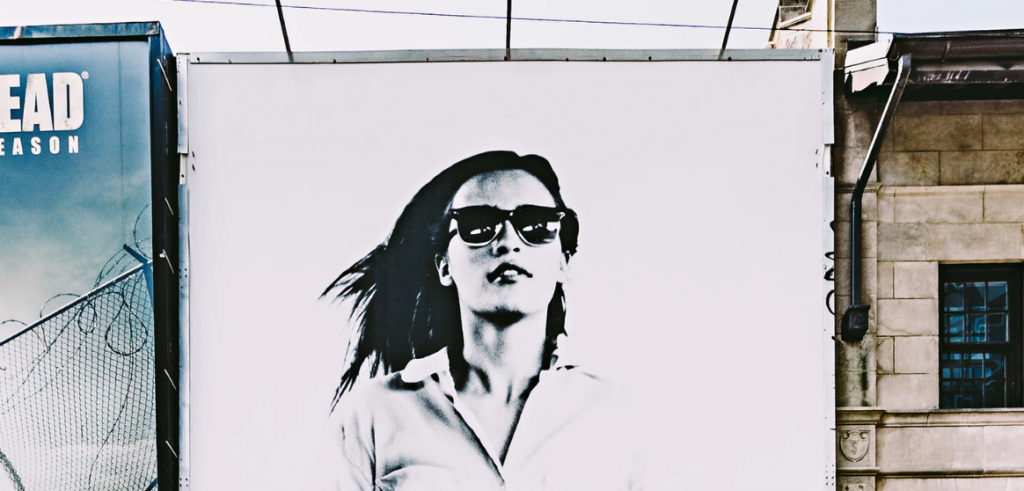 In the case of shopping centers, you can use billboards in front of your location. But you can also use them to promote your shopping experience throughout the area. It can give you plenty of exposure. And be a great tool to draw in crowds.
Because of their size, billboards are brilliant at catching your audience's eye.  You shouldn't have any problems with visibility if you get one of these.
They are made especially for the outdoors. That's why manufacturers make them particularly durable. Most billboards are weather resistant and can even last a few years. However, they are quite expensive, and smaller businesses and retail parks may not be able to afford one.
Monument sign
Another excellent option is a monument sign. These are freestanding boards which usually stand on the ground.
Traditionally, manufacturers made the base of these signs from masonry. Nowadays, many are still made of masonries like stone or concrete. However, it's not unusual to find some that only mimic these appearances and textures.
For monument signs, you can also choose a base which is solely metal or acrylic.
The sign that is attached to this base will display the graphics and wording that you want. It can be made with a variety of materials and in a variety of shapes, sizes, and designs.
You can use monument signs as name boards for your shopping center. For this purpose, you will want to place it at the entrance. If you need to, you can use it to point out directions as well.
Monument signs can help make your business look professional and well established.
Pylon sign
Next, we are going to look at pylon signs. They work exceptionally well at shopping centers. Some manufacturers call them road signs, freestanding, or pole signs. But their basic structure and purpose will be more or less the same.
These are freestanding signs that tower above its surroundings. Because they are so tall, they are usually very visible.
You have a lot of customization options with these products. If you want to, you can design one with only one board. Alternatively, you can place several on the structure.
As a result, it can work well as a name board for the shopping center. And you can even list the names of the individual businesses and stores underneath that of the retail park.
If the stores in the center change often you can even choose one with slots into which you can slide new naming panels.
Illuminated box signs
All of the signs previously mentioned can be extremely effective during the day. However, they don't always work as well in the dark. Not only can they be difficult to notice, but sometimes, they become entirely illegible.
One solution to this problem is to install illuminated box signs. Manufacturers typically make these products with some kind of plastic and install a light inside.
Illuminated box signs usually aren't freestanding. So you will need to mount it on some kind of structure. You can even attach it to monument signs or pylon signs.
Many business owners use them alongside traditional unlit products. That way they can capitalize on them throughout the day and night.
Sign spinner
Sometimes bringing the human element into your signs can make a world of difference. It can help get your signage noticed and can help people to make a connection with your business. That's why sign twirlers can be so useful.
If you are trying to promote your shopping center, you may want to hire people to stand in the surrounding areas. They will be more effective if you place them right on the sidewalk of the road that leads up to the park.
Other signs for a shopping center
The products we have looked at so far work well as the primary ones for shopping centers. But you will also have smaller signs that are spread throughout the location, like ones used by individual stores.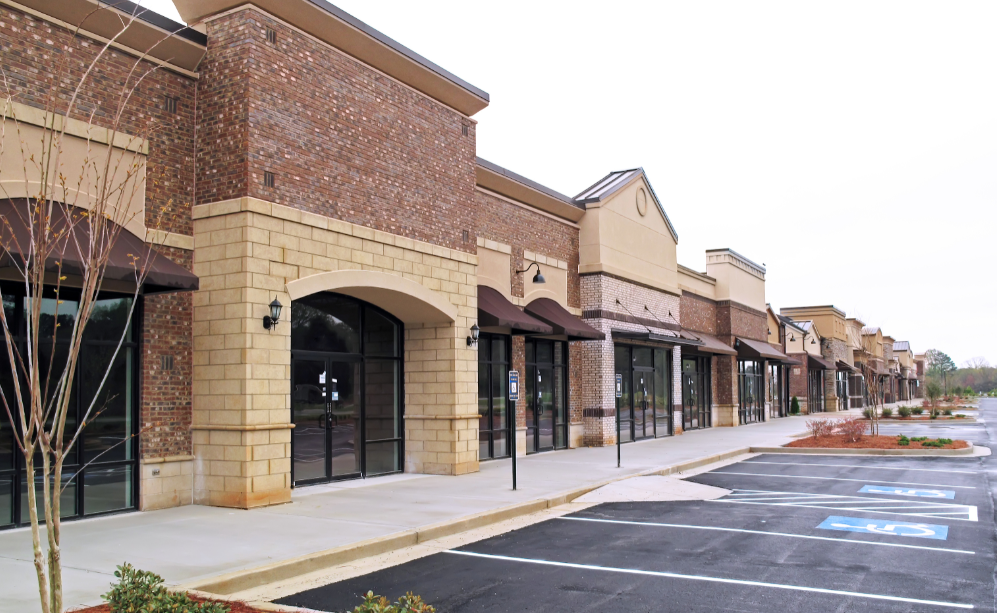 The following is a list of other signage options that you can use in retail parks:
A-frame sidewalk signs
Channel or dimensional letters
Building signs
Window graphics
LED message centers
Floor graphics
Each of these can serve specific purposes on the grounds or buildings of your retail park.
Create an experience
One thing to remember is that customers aren't only looking just for a place to buy. Instead, they are looking for a whole shopping experience. So it is essential that you use your shopping center sign to help you create the right atmosphere.
To do this, you might have to use a variety of different products.
If you have more questions about signage, read our article on do sign twirlers really increase sales? And also check out what to look for from a sign making company + questions to ask.