Are you looking for a cost-effective sign that you can customize to your heart's content?
In this case, we recommend that you consider routed signs. These boards are incredibly useful. You can get them in a variety of shapes, sizes, and sign types.
To help you make your choice and streamline the process, we've written the ultimate guide to routed signs. You can find out everything you need to know from start to finish.
What are routed signs?
The best place to start is by figuring out what exactly you're dealing with.
In the industry, there are many popular methods for creating signage. Each of these is better suited for specific materials and end results.
One of the most popular types is routed signs. Fabricators make these products with a specialized type of router table. The ones that are typically used by sign companies are made specifically with this in mind.
The equipment is used to cut and carve shapes out of the material being used. Aside from this, people often use the equipment to engrave the surface.
You can create the entire sign using this method. However, in some cases, people prefer to cut letters, numbers, or other graphics out of one material and mount it on another board.
All in all, routed signs are one of the most varied signage types. One crucial dimension on which they differ is the material for the sign. 
Among the materials you can choose from, you'll typically find:
Aluminum
Wood
Acrylic
Dibond
Experts use a computer to create the design. They will then upload the file into CNC software, which cuts the images out of the material. Thanks to this, the equipment engraves the signs with precision, which results in a sleek and elegant aesthetic.
Another reason they are so varied is the fact that you can create almost any kind of sign using this method. 
Different types of routed signs
Depending on the material and the finish, routed signs are usually pretty durable and weatherproof. This means that you can use them both indoors and outdoors.
Some top uses for routed signage are:
Lobby signs
Nameplates
Monument signs
Business name boards
Walls of fame
Donor recognition walls
Wayfinding signs
Plaques
Routing can be a convenient method if you're looking for any of these options.
Consult your sign company about the options that are available to you.
How much do routed signs cost?
The question of money is always a crucial one. Any business owner needs to work with a budget to make sure the project stays within reason. 
Mostly, you can calculate a financial plan based on the amount of money you have available, your goals, and the average cost of the product.
But estimating the costs of your routed signs beforehand can be a bit tricky.
There are a few reasons for this. First, as we've said, many sign-making companies offer a range of materials from which they could construct these signs. 
Second, the dimensions of the products can vary from minuscule to enormous. Router tables come in many different sizes, resulting in a range of sign sizes. For example, our equipment allows us to route boards of up to 53.5″ x 101″.
Third, much of the price will depend on how you choose to customize the sign. For example, your specifications will influence the amount and type of material needed. As you might expect, these options are available at widely different costs.
Significantly, the more complicated the structure and aesthetic, the more challenging it would be to create. In the end, this means that the sign makers will need to spend far longer on each piece. Therefore aspects like labor costs will need to be taken into account.
At Signarama, we've made a variety of routed signs to suit different project requirements as well as budgets. Overall, most of them fall into the range of $300 to $4000.
Examples of sign budgets:
Here are some examples of what you can get for different budgets:
Constar commissioned the nameplates above for $300. We created these routed signs from a 3mm DiBond substrate with colored graphics over a brushed silver surface. There is velcro on the back to stick them to cloth cubicles.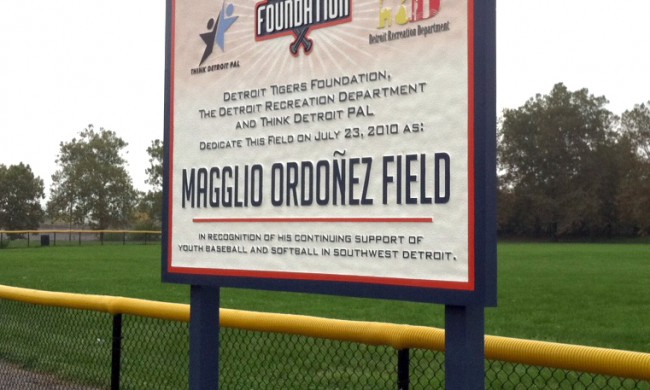 On the other hand, the sign above was commissioned for $4000. We created this sign to be incredibly durable. It is made of High-Density-Urethane or HDU. In the industry, people often use this material as an alternative for wood.
Aside from this, we painted the sign in a variety of colors and mounted it on two sturdy posts.
Guide to designing routed signs
Design can be intimidating for anyone. But even more so if you don't have much experience. The key is not to overcomplicate things and not to bite off more than you can chew. 
In this section, we will look at some of the basics of designing routed signs. Start at one end and work your way through, and before you know it, you'll have a design.
Remember that in the end, you can always ask for an expert's help or even consult the practiced eye of your sign maker.
Size and dimensions
Your sign company should be able to create routed signs of almost any sign type and dimension. This will only be limited by the specifications of the router table or other equipment that they use.
Generally, deciding on a size is a crucial part of the design.
Your decision needs to be informed by several criteria, including:
The amount of content that you want to print or, in this case, carved onto the surface. You don't want your sign to look cramped.
Your measurements of the space available to hang or mount the sign.
From how far away the content needs to be visible or has to be read.
Any local or building regulations restricting the size of signs.
Besides this, you have to consider the total weight of the product. Materials like wood will undoubtedly be heavier than others like acrylic. So if the structure won't be able to handle the weight, you don't have to compromise on size. Instead, you can swap out the material.
Shape 
Likewise, you should be able to customize the shape of the sign to a significant degree. Industrial router tables should be able to cut almost any pattern.
Doing this can be a fantastic way to make your signage, and as a result, your business will stand out from the rest.
Standard signs come in a rectangle or square shape. Overall, this can be a very neat look and can make it easier to design the content for the sign and make it easier to produce. But you can try something different as well.
One great design tip is to carve the sign or part of the sign into the shape of your logo. For example, a garden store can commission a sign that is shaped like a flower or a tree. 
Or take a look at the example of the sign for the Clawson Historical Museum. In this case, the specialized shape helps to create a rustic and antique feel.
Colors
Next, one of the critical choices you need to make is the color palette of the sign.
One of your main concerns should be to find a scheme that is consistent with your branding and message.
You also don't want to choose too many colors. Instead, pick a handful of colors that complement each other and are easy on the eyes. Color wheels can be nifty tools to help you assemble a palette.
Another unique aspect of routed signs is the way many designs include natural textures. If you choose to use wood, you could paint over it. Or you could go all out and show off the natural appearance and grain of the wood.
You could also combine this with painted graphics or text.
3D effects
Another possibility to keep in mind is that routed signs give you the chance to play around with 3D elements. This can be the perfect way to add something unique to your board and help it catch the eye.
It can be as simple as deeply carving out the letters, numbers, borders, or graphics and adding some curves. Or you could cut out a shape and fix it to the face of the sign.
A sign with depth will typically look far more interesting than one with a completely flat surface.
All in all, this is one of the most significant benefits of routed signs.
Graphics
Graphics are optional on many types of signs. Typically, the words are more important for conveying the message. However, well-chosen and designed images can undoubtedly boost the effectiveness of a sign.
For the most part, people tend to prefer to use simple graphics for routed signs like logos. Once again, you can have fun with carving out shapes from different materials and in different colors to highlight parts of the content.
Text formatting
Last but not least, you need to pay attention to the formatting of the text on the sign. The copy is an essential part of conveying your message to the audience.
Generally, the formatting includes the following:
Font
The style of the text, for example, is it bold or italic
Font size
There are three factors that you need to consider when making a decision. 
First is the visibility of the text. You don't want to choose a format that is too small to see.
Second, is the readability of the text. Some fonts are more challenging to read, specifically if they are ornamental or script. Generally, sans serif is also better for signs than serif.
Third, is the appearance of the copy. The formatting should be appealing and should suit your brand's identity. For example, a law firm should use a font that is neat and formal, like Helvetica or Gothic.
The "where" and "how" of installing routed signs
As you can see from the top sign types, there are a variety of options when it comes to routed signs. This means you can install them almost anywhere, both outside and inside. But there are a few spots where signs are more common.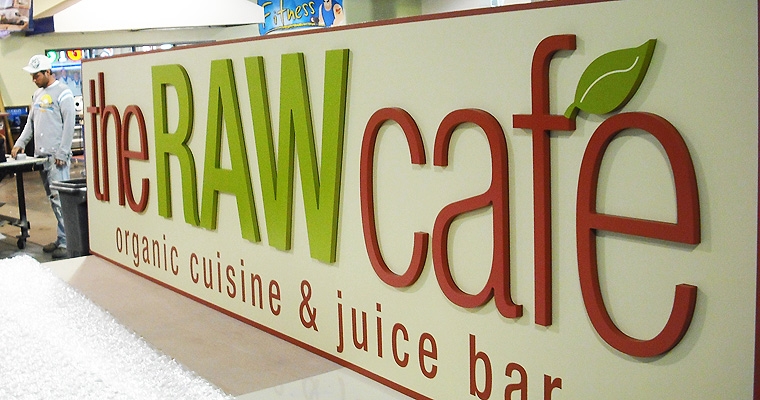 Routed sign boards are more prevalent in lobbies and reception areas, the front face of a building, or on the sidewalk or yard in front of a building. Aside from this, businesses favor them as nameplates inside the office.
Here are some key features to consider when choosing the location:
Once again, research local and building regulations about signage. Different states and municipalities have their own policies. For example, there is a guidebook available for the regulation of signs in Michigan.
Check whether there is anything that can obstruct the view of the sign like trees.
You need to consider what the optimal spot would be, which would be where the maximum number of people would be able to see it.
Make sure that the structure can support the weight of the sign.
There are just as many ways to install routed signs as there are ways to design them. Installation might feel like the last step in the creation process. However, we recommend that you keep this in mind from the start to make sure everything goes smoothly.
You need to pick an installation method that will suit the location, weight and shape of the sign, as well as the type of weather conditions you need to contend with.
Among others, you can install the routed signs using the following methods:
Secure them with screws
Attach them to posts or poles
Stick smaller ones with velcro
Mounting them on a monument sign base
Put quality first
Routed signs stand out for their versatility and flexibility. Thankfully, the construction process allows you much freedom to create the perfect signs for your business' needs. On top of this, they are typically very budget-friendly.
But no matter what sign you get, remember that quality always comes before quantity. Generally, this is what your clients and audience will be looking for. Consult with the experts to make sure that you get the most out of your signage.
Several different aspects can contribute to their impact and effect. For more information, you can read ten professional sign fonts + the meanings behind them and a guide on where & how to install signs around your business.