You're about to host an event, and you're excited about the potential to bring people together around a topic everyone finds interesting. Naturally, there's plenty of planning. And in your case, there's even a little something extra to mastermind—how to prepare for an event that you're hosting outside. That's why you need some creative outdoor event signage ideas. Of course, you need to keep people in the know about where they need to be, when they need to be there, and what they should expect once they get there.  
Window signs (and not the kind you're thinking)
Here's a creative wedding sign made from an antique window. What's not to love about this delightfully creative sign? Really, it has it all—plenty of space, built-in formatting solutions, whimsy, and a touch of the rustic. While this one is for a wedding, there's nothing to stop you from using the idea as a creative springboard for another type of event. 
You do it!
How about using it to list the order of events, special guests, and sponsors for a nonprofit fundraiser. Plus, you could even paint the window frame in your organization's colors. On the other hand, if you're a corporation planning a low-key, small conference, then why not use this to announce speakers and talk about times alongside meal info and vendor table listings.
Armed with these outdoor event signage ideas, it's time to get started planning your own event's great messages. Try to take the time to think now about what your attendees truly need to know and what information will provide them a comfortable and delightful experience. 
Dimensional letter signs—when you need to GO BIG!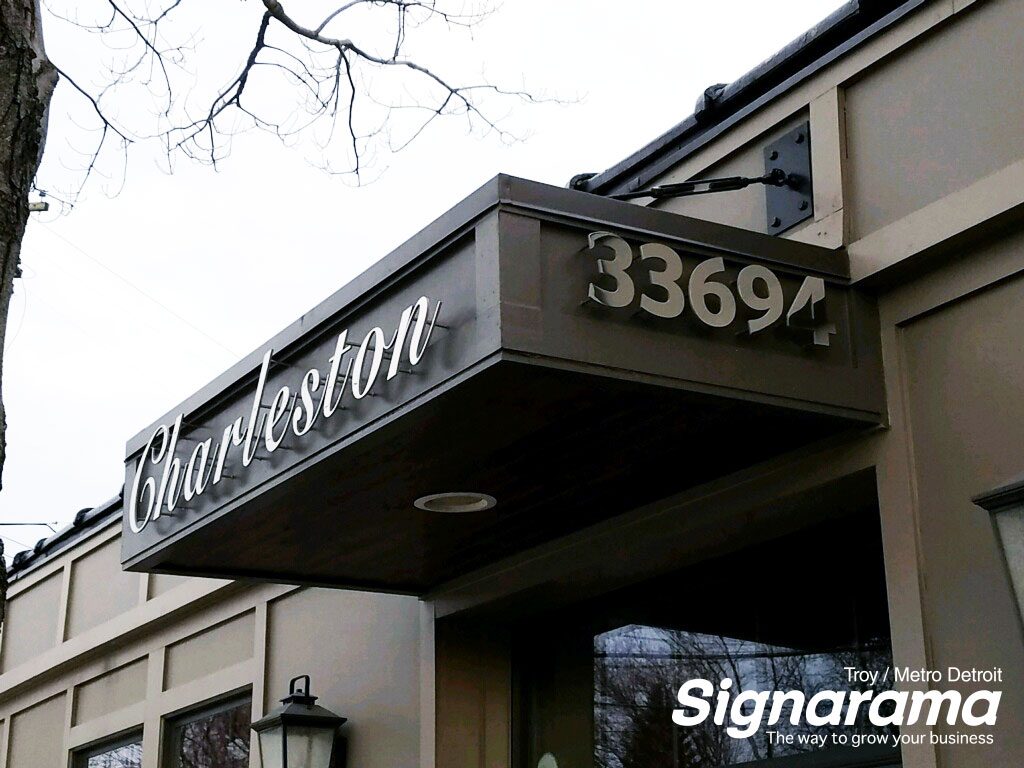 Some events will likely be able to thrive with signs in typical sizes. But, every once in awhile, companies or organizations may host events that simply call for sizing up. And that's when you might just want to explore dimensional letter signs.  If you're hosting a large outdoor gathering like a fair, festival, or conference of some type, craft dimensional letter signs to stand at the entrance to your location. Spell things out in words so big, no one can miss them. 
Of course, this would be a great time to get your sign specialist involved. For a big project, it makes sense to tap the big experts. 
Hybrid signs
If you're hosting an event that can do with a healthy dose of humor, why don't you mix full-size photo cutouts of people with A-frame sidewalk signs for a show-stopping look? The side-walk sign can do the heavy lifting in this case—use it to hold the majority of your words, to really say what you need to say. The cutout is there to grab people's attention, make them laugh, and get them in a great, celebratory mood. 
Eye-catching outdoor backdrop signage
If your outdoor event space isn't exactly scenic in its own right, check with your sign specialist about creating a backdrop of your own. Capitalize on the idea behind tradeshow displays and exhibits—signage that can create what almost looks like a wall behind your setup. 
Create something like this backwall as the backdrop for your event sign-in area. Or simply set up the signage with photos ops in mind—providing a branded area for your attendees to take photos. 
Go super creative with a fun outdoor scene that makes it look like your attendees have been transported to another location. Or take the display in a humorous direction by printing full-body photos of people important to your organization. Your attendees can "pose" with important leaders and bring home mementos of the occasion on their phones or cameras.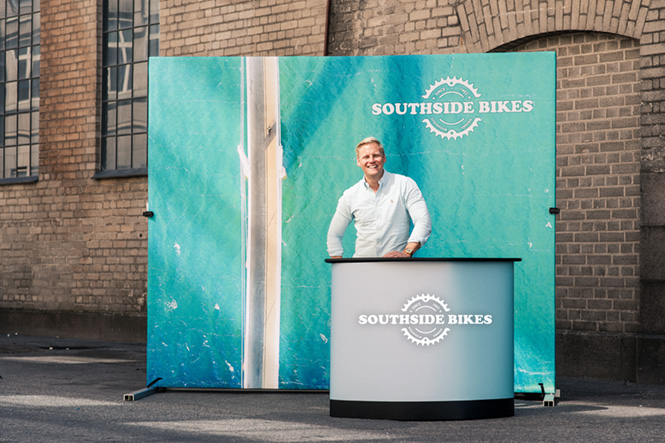 Table & sign combo
We love this extremely creative signage that doubles as a table surface—found on FireSign Inc. Imagine what a great look this could add to your outdoor event! 
Letters within a letter
And with this outdoor signage, we love that they didn't just use a simple rectangular sign face for their message. Instead, the message speaks from an enormous letter of the alphabet that's sure to catch the attention of passersby (also from the FireSign Inc. website).
Co-opt this idea to fill your event space with alphabetic signage. In fact, if you have a business with an acronym for a name, this could be your greatest option yet. 
Tackle outdoor event signage ideas early
Whatever your event, don't forget to plan your outdoor event signage ideas in advance so your sign specialist has adequate time to manufacture your signage. Plus, be sure to mull over how you're going to promote your event so you can reach your target audience. For those of you working on graduation events, check out Tips For The Graduation Event Planner: Ceremonies, Open Houses, etc. And if it's a fundraiser you're hosting, don't forget to check out How To Advertise Fundraisers For Your School Or Nonprofit Event