We often think of business signs as plaques, posters, letters, and panels that appear on the outside of buildings. And it's true that those are often prime examples of business signage. But businesses don't have to be constrained to showcasing their brand on the exterior of their location. In fact, signs are perfect candidates to become part of a building's interior design, too.
Tailor to your building
Of course, not all buildings are created equal—on the outside or the inside. So it makes sense that different buildings will require different types of interior signs.
Some buildings have an unfinished, industrial appearance on the inside. Think of manufacturing plants, for instance. Others are high-tech and high-fashion. Like a Silicon Valley startup, perhaps.
That's why we suggest that your interior signage journey should begin with taking stock of your building's interior design and of its particular offerings. There could even be unique architectural features that would suit your building perfectly for a certain type of sign.
Get started
Certainly, a natural starting point is thinking through the issue from all sides. A lot of this can be done from your chair, walking around your building, or even while driving your daily commute. Gather ideas from other companies' interior signage. You'll also want to take stock of your strategic aims for the sign—identifying things like your target audience and your intended message. At this stage, getting an idea of your budget parameters should also be helpful. 
Talk it out
After you think through some ideas on your own, it's a great time to get your sign specialist involved. And don't think that you have to come to them with a fully formed idea at the ready. Instead, you can actually have them help you with designing your sign in addition to manufacturing it.
Wrapped pillars
If your building has pillars, they can become a natural signage asset. Square or round pillars can be enveloped in signage. Use them to promote an ongoing initiative, support key concepts, or even advertise an upcoming event.
Lobby signs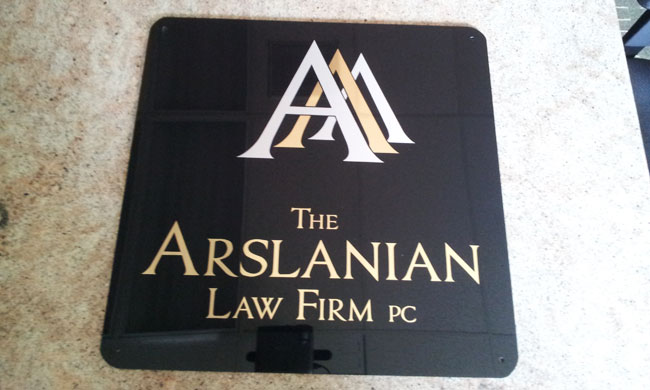 Once your customer or client finds your building, they may still need to make it to your office suite within the building. And you want it to make a good impression once they do. That's why you want to mastermind a lobby sign that projects a positive company image. And you also want the sign to blend well with the design of its surroundings. Check out our Arslanian Law Firm sign to see what we mean—some signs need to exude classy professionalism.
Wall mural
What better use of an open wall than to display something relevant about your business? Check out wall murals if you need signage that lends an air of permanence and commitment to your space. And, if you're like Thunderbird Lanes, you can even use a mural to promote connection with your customers. Who wouldn't want to see their own name take a place of honor on your business's wall?
Wall banners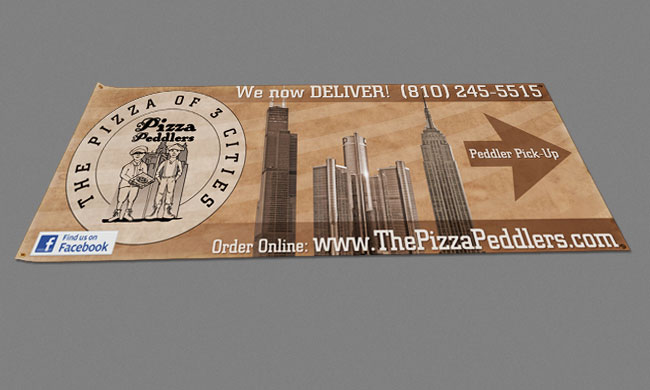 Wall banners are another possibility when it comes to interior signage. Not only can they promote who you are and what you do, but they can also function as wayfinding signs. Like this sign for Pizza Peddlers, they can help point customers in the right direction.
Floor graphics
There is so much to love about floor graphics. Not only do they put an easily underused space to great work, but they're also fun in their own right. If you're an ice cream parlor, why not place an ice cream cone icon right on the floor and surround it with comfy chairs in corresponding colors? Fascinatingly, the floor can also provide you with a canvas to promote your core values. That way your tangible foundation actually reflects your company's intangible foundation.
Wall signs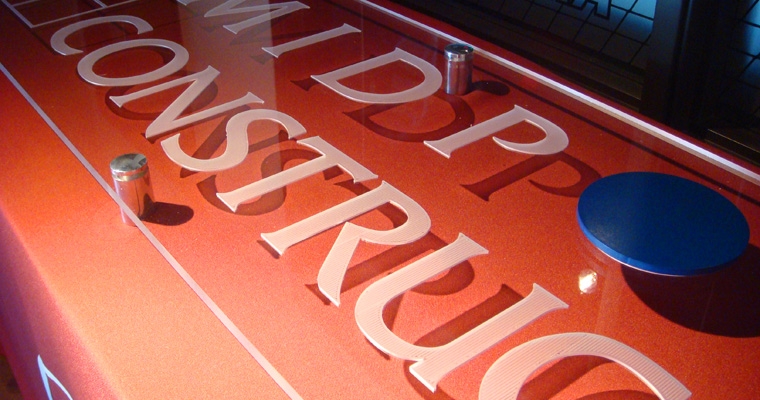 With wall space available, there's no limit to the messaging you can share. Routed signs like this one for Midpoint Construction are a perfect way to radiate quality while getting your message across. Even channel letters can take their place on your interior wall—adding depth and color.
Custom Clock
Here's another wall fixture that can be personalized for your company needs—a clock. To see what we mean, check out this custom wall clock for TI Automotive. What time is it? It's TI Automotive time!
How to incorporate signs into interior design
When it comes to the general question of how to integrate signs inside your business, here's another thing to keep in mind. You are not limited to your logo. While a logo is often a natural subject of a sign, it is not the only appropriate subject of a sign—not by a long shot.
As we mentioned earlier, you can use your signage to promote your values—either explicitly or implicitly. For instance, a doctor's office could use an open wall to feature core values like "compassion," "knowledge," and "time." Or a gym could spread an inspirational quote across an open wall with a wall wrap.
Choose wisely
Take your time to select the sign that's just right for the inside of your building. Check out A Guide On Where & How To Install Signs Around Your Business to learn more about the signs that your company might need. And if you're curious about wall wraps and what you can do with them, take a look at Creative Uses For Interior Wall Wraps With Design Examples.