Whether you're moving into a new office building or planning a renovation for your existing space, there's one thing all buildings have in common—and that's walls. While they serve a remarkably functional role in maintaining the structure's integrity, they also have aesthetic utility to offer. Your wall space can be so much more than the plain, even drab, walls we're all used to. Of course, paint is one option. But interior wall wraps are a way to really maximize the space's potential.
Today we want to explore the power of interior wall wraps to transform your space. Here are some ways to use them to make the area between your ceiling and floor so much more than blank space. 
Spread nature
Spreading a visual that depicts some element of the natural world is a great way to create an intriguing, and perhaps even relaxing, space. At first, this may sound like a recipe for tackiness—evoking images of nature-themed wallpaper from years ago. However, you can certainly do it in a professional way. If you have an entire wall to work with, try spreading tree branches across it. 
Add height
You might find yourself with wall space that extends more than one story. And that's actually great. Make the most of it by allowing your graphics to climb all the way up the wall. If you have a staircase that wraps by or near the wall, even better. 
Create a focal piece
While you can opt for an interior wall wrap that diffuses a design over the whole wall, you may find that striking a main focus better suits your space. Naturally, you could use something generally applicable (like a globe) as the main element of your graphic. But you could also create a focal point that directly speaks to what you do as an organization.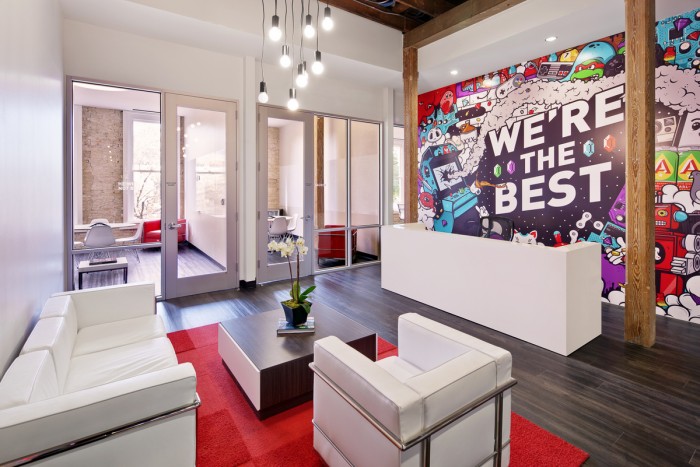 You can also use the deep and broad knowledge your organization has accumulated to guide the interior wall wrap design process. For instance, if you're a laboratory, then creating a chemistry-inspired wall wrap might make perfect sense. Draw on everybody's knowledge and talents to create a technical, nerdy graphic that expresses who you are and what you know.
Draw on your values and interests
You can also use your wall as a sort of branding tool and a way to reinforce your organization's values. Here's some inspiration from the real world. The wall poster "The Long Table" that used to hang in this Virginia coffee shop blends perfectly with the idea of a coffee shop as a place to gather with others. 
Use colors and patterns
Wall graphics, floor graphics, paint, and furniture can all combine to create your overall aesthetic. Check out how this spritely space explodes with colors and stripes to create a vibrant appearance.
Say it with words
Remember that your interior wall graphics can also tap into the power of words. Check out this tech wall just full of words to read. It's company branding—word cloud style.  
Don't lock yourself into using the entire wall
A wrap that extends over just a small part of your wall can be striking in its own right. Check out this bright stripe stretching down a hallway to see what we mean.  
Extra creative ideas
Here are some thoughts for taking interior wall wraps to the next level.
Wrap just one wall of several to create a contrast wall
In a long, rectangular room, you could wrap the back wall, shooting for an effect that draws people in. 
Wrap some walls and not others in a recessed wall situation
Augment the varying depths that recessed walls already create by wrapping some walls and leaving others painted (perhaps in neutral colors). We suggest you get sound design advice on this one, though, to end up with a really great product.  
Explore the possibility of backlighting interior wall wraps
This is something to discuss with your sign specialist. Ask about ways you could incorporate lighting behind your wrap design, allowing some light to seep through certain areas of your image. 
Go 3D
A 3D wall could really stand out to viewers. Here's something to make them stop, take note, and maybe even stand for a few moments just to take it in. Even a wrap that simply provides an illusion of a 3D design is a great option. 
Pair a wall wrap with pre-existing architectural features
Check with your sign specialist about the possibility of pairing a wall wrap with a brick or cement wall already in your building. Use this brick and photo wrap appearance as a launching pad for your own creative ideas. 
Get your interior wall wraps started
If designing interior wall wraps falls outside your area of expertise, consider finding a sign company that can not only place your wrap but can also help you create it. Select a specialist that offers design services. Do your due diligence to find a company you'll enjoy working with. Check out What To Look For From A Sign Making Company + Questions To Ask to get you started.