Business owners have plenty of things to think about, and compliance with applicable sign regulations is one of them. Do they have the right permits? Are they reporting revenue correctly? And when it comes to compliance, companies and organizations also need to think about their signage—what is and isn't allowed?  
Today, we want to share some info to help you get informed and (we hope) enable you to be more compliant in the long run. Plus, we'll talk about how to figure out what regulations apply to you in your locality. 
1 – Building sign regulations 
Here's something that you want to know about. The exterior of your business is not always yours to do with as you wish. And it's a great idea to get this down before you invest in building signage that's unexpectedly prohibited. How do we know? Because the issue came up in Detroit in 2017. 
Take it from the Detroit Free Press on the topic of signage spread across certain buildings: "…nearly all of these commercial wall signs from the likes of Apple, Shinola, Meijer, Fifth Third Bank and the Detroit Pistons will have to come down by Dec. 31 as the city cracks down on building owners who have been violating what was once a seldom-enforced ordinance against such advertising."
Obviously, it's better to know what is and isn't allowed before you install signage than to discover it after you've already invested time and money into the arrangement. 
2 – Rules that apply to awnings and sidewalks (or walkways)
It's also important to know that the space outside your business, whether in the air or on the ground, is also not yours to dispose of at your pleasure. Just ask NYC businesses about the awnings issues that arose last year. Check it out from the Bklyner —Merchants Take Down Signs As Panic Over Fines Sweeps City. As they report, the sign-related ticket for one business weighed in at a hefty $6,000.
Sidewalk signs like A-frames aren't necessarily allowed either. A-frames became a subject of interest in Chicago in 2018 according to Block Club Chicago. Alisa Hauser reported that one business owner was hit with a $450 fine for his A-frame. At the time, A-frames weren't allowed outside businesses, although she reported the city's aldermen were considering a change to that rule. 
3 – Window sign rules— it's a sign. Or is it?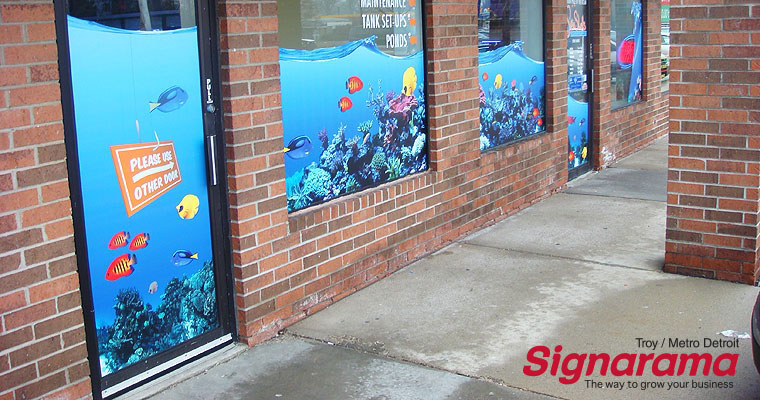 A friendly piece of advice. What you call art, others may call a "sign" instead. And while a difference in terminology can sometimes be harmless, other times it can be vital. If you're differing with the government on the definition of a sign, then that's something you'll need to give due attention to.
Case in point—a soon-to-be sushi restaurant in Massachusetts. This building's window signs became a contested subject related to zoning regulations. Did the Chinese characters on the windows count as signs or as art? They were ruled to count as signs. 
Plus, when it comes to window signs particularly, you should know that there may be restrictions on the percentage of the window your sign is allowed to take up. For instance, take the City of Phoenix as an example: "Window signs generally are prohibited if they exceed 30 percent of any window area or placed on glass doors."
How can I discover the rules and regulations that apply to me?
Different localities could have different rules and regulations, so you'll want to find out what applies to you in your particular location. Here are some ways to get started. 
First, check with your sign company. As a specialist in the industry, they may be able to fill you in on the rules that will apply to you and to the type of sign you're installing. They may also be able to point you toward the proper permitting agency to secure any necessary permissions. 
Second, check with your local government. This is something you can do when you're getting started. But it should also help later on when you simply want to keep abreast of any recent developments. If you're not sure of the exact department to contact, call or drop by your locality's administration office and tell them what you're looking to find out. They should be able to point you in the right direction. 
Third, you may be able to find the answer to some of your questions online. In fact, you may even be able to discover the sign code for your area. Or you might find specific directions for the department to contact. 
Example
To make this easy, let's just take Detroit as an example. Need to find out about sign regulations in the Motor City? You need the City of Detroit's own website. That way, you can get the info straight from the government itself. 
Or, if you have a technical mind and you just love to read long legal documents, check out the draft form of the proposed new sign ordinance. At 100+ plus pages, it'll be a hefty read. On the other hand, you can also use the government's website to learn more about sign permits. 
Everybody else
Of course, not everyone lives in Detroit. But the basic principles we gave in this example should hold true. If the information is not available on the internet (and it may be, so you should check), give your local administration a call so they can point you in the right direction. 
Keeping up with changes
Naturally, sign codes don't stay the same forever. Though from a compliance perspective, it might be nice if they did. Just how can you keep up with the changes? Well, again, use the internet and your local government to help you out. 
Scour, search, ask
For the nerdy folks among us, you may be able to keep up on your own if you know where to look. Scanning publicly-available meeting minutes for your locality's governing body could give you a heads up when changes have been made. Also, calling the appropriate authorities is still a good idea if you can't find the info you're looking for online. And you may even want to call the authorities either way—just to be sure you're not missing something. Check with your sign company, too, because they may know about changes before you do.