Safety should be at the top of any business's list of priorities. But no more so than for restaurants. Any company that is in the food preparation services has quite a challenge ahead of them.
Installing safety signs are one of the measures they need to take to minimize the risk of harm for both their customers and their staff. These businesses need to follow guidelines set out by the relevant health and safety authorities.
If you own a restaurant, read below for our guide to complying with the requirements for safety signs.
Regulations for safety signs
Unfortunately, there is a lot that can potentially go wrong in a restaurant. Significantly, you need to follow specific regulations to maintain hygiene standards for food preparation. Therefore, you need safety signs to advise your staff on how to handle food correctly.
Posters are a fantastic way to help you enforce necessary rules and guidelines.
Generally, restaurants also own and use equipment that can be harmful. So you need to warn your customers and staff. In some cases, you need to put up signs with instructions on how to operate it correctly.
But not only that. Restaurants that do not comply will get into trouble with local authorities. They might issue your business with fines. Or even suspend your license and close the establishment.
Besides this, you need to protect your company from liability. Regrettably, people get hurt all the time, and it might even happen on your premises. Installing the right signs can help you to protect your business from legal action.
For all these reasons, restaurants need to comply with the requirements set up by the relevant authorities like OSHA, ANSI, and the FDA.
Note that there might be slightly different requirements depending on the specific state and location. For example, a useful resource for businesses in Michigan is the Michigan Food Safety website.
Remember to regularly check the relevant websites and publications to see if the guidelines have changed so that you can stay up to date.
Types of safety signs
For your convenience, we have divided the different types of safety signage into five categories. Each of them covers a range of signs related to specific hazards in your restaurant. They include most of the vital posters that you need.
But remember that every business and location is unique. So the requirements might be slightly different in each case.
1 – Hygiene signs
The first group we need to talk about are hygiene signs. Everyone needs reminders sometimes. These posters are necessary to help avoid unhygienic practices in aspects like food prep, food cooking, food washing, and food storage. It plays a critical role in establishing and maintaining a strict hygiene policy.
Besides this, it is an essential part of making your company compliant.
You will need to install the majority of signs in the kitchen as well as other applicable locations. All in all, restaurants need to place them wherever a hazard can be avoided adequately or reduced in another way.
Handwashing
You need to install signs to notify staff to wash their hands. They are necessary at every sink that your food employees use.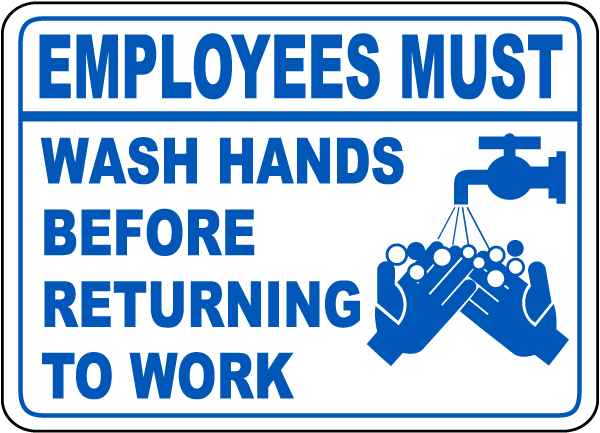 Food preparation
There are a variety of signs you can install to help keep your preparation areas hygienic. The posters include ones for:
Chopping board and knives
Defrosted food not refrozen
Raw meat only
All food must be covered
Waste in bins provided
Fish only
Leave basin clean
Hairnet reminders
Sink
Besides these signs, you also need to mark the sinks for specific uses. This is useful to maintain sanitary conditions and to prevent cross-contamination.
The main sinks are:
Those for food wash
Sink for utensil wash
Those for hand-washing
Storage
Any restaurant owner knows how critical it is to store food safely. There are regulations to control the temperature at which you store the food. Plus it is mandatory to mark the date on which it was prepared. Signs can be a great way to to help enforce these guidelines.

2 – Chemical safety storage signs
Most businesses will have a variety of chemicals on location. These include substances that you can use in cleaning, operation of machinery, and even for first aid. More likely than not, some of these materials might be hazardous, meaning people need to take care when they use or store it.
That's why you need to install signs to warn both your customers and employees. On top of this, they can provide information and instructions for safe use. And you can inform them of measures they can take if anything goes wrong like spills.
Chemical warning
Businesses have to restrict and control access to potentially hazardous substances on your premises. At a restaurant, this will mostly involve cleaning materials.
Protective clothing
Depending on the types of chemicals, you might need to install signs advising people to use protective clothing. It can include items like gloves or eye protection.
Cleaning in progress
Another safety sign that you need is one to notify people that "cleaning is in progress." This can help you to restrict access to protect people from slipping or falling and from contact with chemicals.
Wash hands after
In some cases, people need to wash their hands immediately after using certain chemicals. To help prevent injury, you can benefit from installing a reminder to wash their hands after use.
Flammable symbol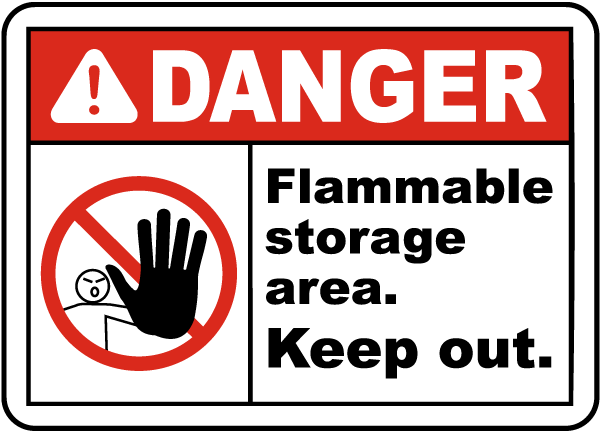 As a restaurant owner, you need to make sure to install signs with symbols to warn people of flammable materials.
3 – Dangerous equipment
Another type of safety sign that you should consider are ones for potentially dangerous equipment. Once again, you have to provide warnings, as well as signs that give instructions and information for correct use.
These signs can help keep people safe. In the end, it is necessary to make your business compliant and to protect it from liability.
Operating instructions
Signs with operating instructions are a common way that businesses help ensure operator safety. Sometimes these might even be mandated by regulating authorities. In a restaurant, for example, this might be necessary for cooking equipment like gas stoves.
Protective clothing
Once again, you might need signs to advise the use of protective clothing like safety glasses.
4 – General safety signs
Besides all of the above, you need to commission signage for general health and safety rules. These are used for a wide variety of purposes, and you will need to place them throughout your restaurant.
Overall, the posters are there to help you create a safer environment by providing warnings and notifying people of safeguards.
Alcohol warnings
Any establishment that sells alcohol needs to have a "no underage drinking sign." If your restaurant has a bar area, this is the best place to install it.
You could also include a sign with a warning for pregnant women about drinking alcohol.
Age restriction
Some establishments might have a general age restriction like nightclubs. But these can also be very useful to restrict access to specific areas of your restaurant like the bar.
Exit signs
A few of the most important signs that you need to install in any business are exit signs. You need to clearly mark the doorway as well as the route to it. This is necessary for general emergency exits and fire exits.
No smoking
Since 2010, smoking is prohibited in most public places in Michigan. These places include restaurants. Preferably you should install more than one depending on the size of your business like placing one outside and one inside.
Anti-choking signs
According to the law, a food service establishment that sells solid food for on-premises consumption needs signs to help prevent asphyxiation.
It needs to have a diagram to explain anti-choking techniques that are safe for both adults and children. These need to be approved by the health department for dislodging foreign obstacles caught in a choking victim's throat.
Safety equipment
All businesses need to have signage to notify people of the location of your safety equipment. We recommend that you give some operating instructions too.
Examples are:
First aid symbols
Fire extinguisher
Fire hose
Allergy information
Unfortunately, one of the biggest dangers of any food establishment is potential allergies. It is usual to warn your customers of common allergens in the food on the menu.
But you need to inform your staff too. On top of training, an allergy information sheet like this can be extremely useful. One of the best places to install this is usually the kitchen.
5 – Site based safety signs
The last category involves signage that is based on the specific requirements of your site. These posters contribute to the overall experience of clients and employees in your restaurant.
Therefore, they are important for risk management. But it can also help make the way your business functions more efficient.
Preventing slipping, tripping, bumping and falling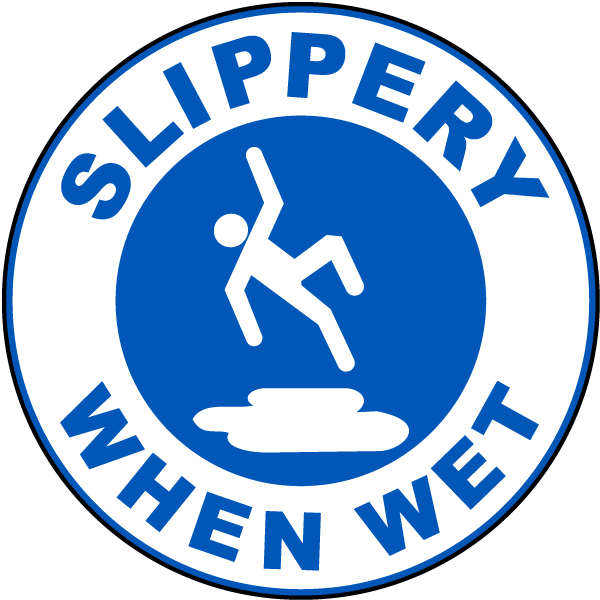 Any business has to try to prevent injuries on their premises. You need to install these warnings at any potential hazard. For example, use posters to warn people to mind their head, mind their step, or to be careful of slipping as in areas where the floor is wet.
Disclaimer
Any business needs to create and install disclaimers to protect the company from liability. Overall, it can be helpful to tailor them to your restaurant to make sure it accounts for all possible risks. That's why you might want to consult your lawyer on its content.
Staff only
Another vital type of sign for a restaurant is "staff only" signs. These have more than one purpose.
First, they help you to keep some areas away from your customer's eyes. Second, they can help you to keep people safe by preventing access to areas with dangerous equipment or materials.
CCTV signs
Do you have CCTV surveillance on your premises?
If you do, remember to put up signs to notify people of this. You have to hang some of these on the outside as well as inside your restaurant.
Other important posters
Not everything you are required to display will necessarily come in the form of conventional signs. In the case of licensing, you might have to hang the actual certificate or license that was printed by the specific authority.
However, because they are such a crucial part of keeping and showing that your business is compliant, we will cover the basics.
In short, here are some of the vital certificates and licenses that should be on display somewhere in your restaurant:
Sidewalk cafe license
Certificate of occupancy
Foodservice establishment permit
Sales tax certificate of authority
Place of assembly certificate of operation and permit and maximum occupancy
Liquor license
Permits for equipment use
Creating the signs
Now that you know what signs you need, you need to find out more about the fabrication process.
As with all signage, one of your first steps should be to reach out to sign companies. Luckily, because these signs are so common, you might be able to buy some ready-made. Of course, you may need some of your signs to be custom made.
One benefit of a professional company is that they will be able to give you solid advice on the types of signs you will need. It's likely they've had experience in creating these products for other restaurants.
Overall, a sign company can make the process much easier and help you stay on top of things.
One area that they will be able to assist you in is making sure that the design and build of the signage are also compliant. This involves the following:
Signs have to be clear and legible.
In terms of content, every sign needs to identify prohibited actions, safeguards, warn of hazards, or direct towards safety measures such as fire exits or equipment for fire safety or first aid. 
 All signage needs to have round or blunted corners.
Different signs need different backgrounds. Red is for prohibition, yellow for caution, green for positive action, and blue for mandatory action.
The shapes also differ, like discs for prohibitions and instructions, triangles for warnings, and squares and rectangles for emergency and information signs.
A complete package
No doubt signs are one of the crucial tools in any business owner's toolbox. Part of their significance lies in their versatility and flexibility. As we've said, safety signs play a critical role in making any company, including a restaurant a safer and more effective space.
But this isn't the only essential use of signage. Besides this, one of the most significant uses of these products is in advertising. You can use them for both on-site and off-site promotions.
If you are looking to update your promotional signs take a look at these tips & tricks to designing eye-catching business signs.