As a legal specialist, you want your clients to trust your expertise and to feel comfortable with their experience with you. Naturally, the environment in which you work and meet with clients is one part of this package deal. So today, we thought it would be appropriate to explore some great signage for the inside of your law firm's office space—or, more specifically, law firm lobby signs.
First impressions
Likely, you want to make sure your clients' experiences are good all-around. From their initial phone call or visit to their follow-ups with the attorney assigned to their case and all other parts of their interaction with you, you want to create a great experience. But you also want to make a great first impression. After all, you want potential clients' to like their initial experience so much that they decide to stay with your practice.
If you're looking to invest in a good sign for your law firm's lobby as part of your first experience plans, read on. We'll check out some examples to serve as inspiration for your own signage choices. But first, let's run through a few things to keep in mind as you craft your law firm lobby signs.
Use color thoughtfully
Since you're trying to project a professional image, the last thing you need is a garishly-colored sign that completely undermines your practice in the viewers' eyes. Remember that different colors will likely have different effects on viewers (and this will probably even vary from viewer to viewer, too). For instance, orange and blue could be perceived as upbeat and punchy. And a silver and black combination could be more stately and reserved.
Exactly which colors you choose will depend on the company image you're trying to craft. It's a great idea to rope a graphic designer in at this stage, especially if no one in your company has experience with color and visuals. You can even check with your sign company—they may offer design services. 
Ensure the sign is easily readable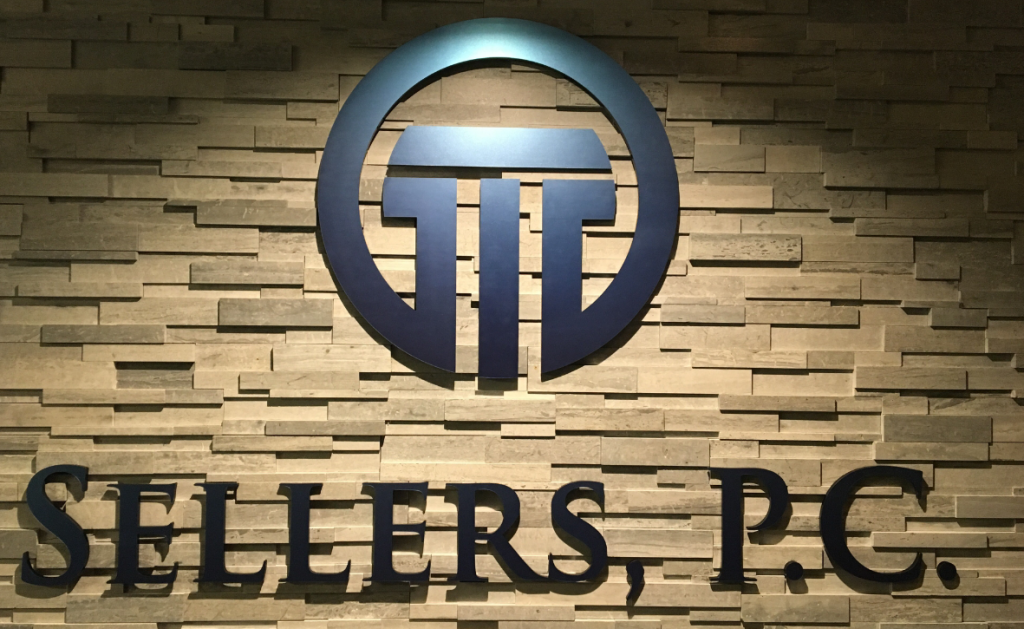 You might choose a law firm lobby sign that consists of letters formed to be placed directly on the wall. Or you could select a sign that's on a plate which will be affixed to the wall. Either way, ensure that there's enough contrast between your sign and the wall behind it that your sign is easy to make out.
Place individual letters evenly
If your sign is going to consist of individual letters spelling out your name over the wall's surface, be meticulous about placing the letters evenly. You can even get a level involved and perhaps mark the wall with light pencil markings. But, whatever you do, just be sure that your letters don't form an uneven mess tipping and tilting across the wall. That is certainly not a professional option.
Samples of law firm lobby signs
Here are some signs that can help provide you with creative inspiration as you choose your own.
Good contrast on warm wood
Here's an example of a law firm sign against a wooden wall. Check out how plenty of contrast between the sign and the wall behind it makes it easy to distinguish where one stops and the other begins.
Letters and a logo
We love how this law firm sign in the second photo here contains more than just words. A logo or similar image provides interest and even a little asymmetry—which in this case works beautifully.
Go metallic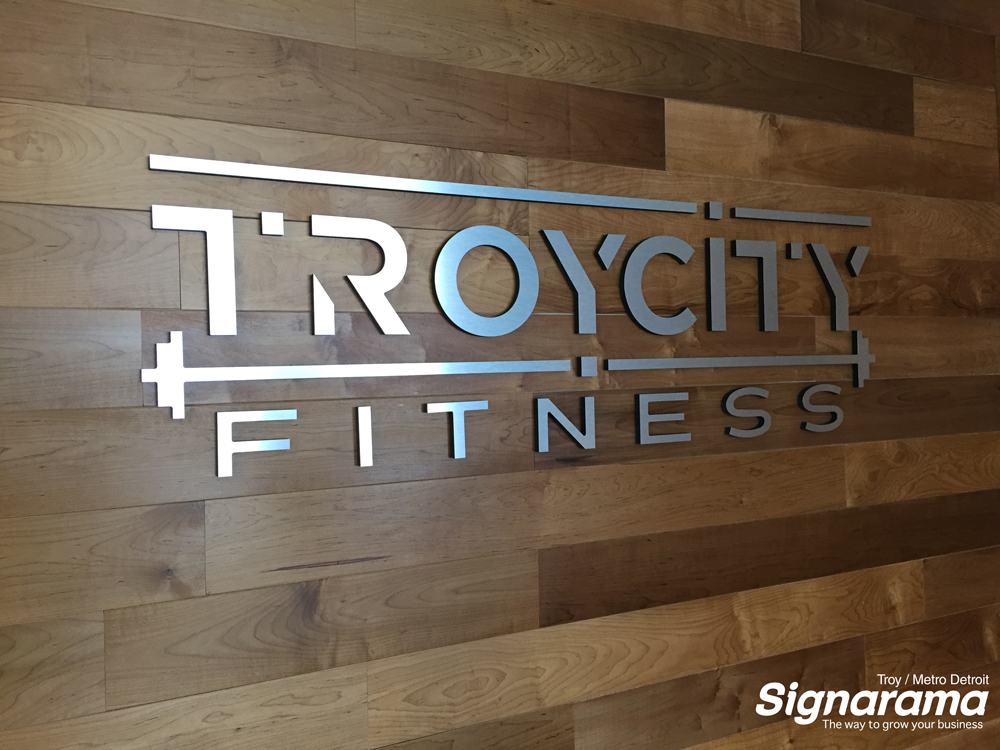 Take inspiration from this fitness center lobby sign to consider crafting a metallic sign for your lobby. Metallic letters could lend an authentic look, and we love the appearance they create against the wood background.
Try extra depth
If you're a new, energetic law firm trying to present a modern image, consider shaking things up a bit. One sign option that might help you do that—dimensional letters with a little more depth than you might usually see. Check out this lobby sign for inspiration. In addition to offering deep dimensional letters, it also provides a cheery pop of color which is something else to consider if it would mesh with your company's image.
Law firm lobby signs can reach beyond your lobby
It's a great idea to design a sign with your long term goals in mind. While they serve important functions in lobbies, law firm lobby signs can actually reach beyond the lobby, too. You can choose to create a lobby sign that will be a perfect backdrop for taking photos with clients after a large victory in court. Shared on social media, that signage is now doing double duty for your company. To find more ways to reuse your signage, check out our 8 Tips To Get The Most Out Of Your Signs & Reuse Them On Social Media