Golf tournaments have long been a highly effective fundraising tool for organizations of all kinds. People are always eager to take part in the fun at one of these events. Besides this, it can be an excellent marketing opportunity for the sponsors and the host alike.
No matter your budget, signage is a crucial part of making an impact at these events. Golf signs are a staple and were clearly named specifically for this.
In this article, we will show you the clever uses for these products. And of course, give you some tips on how to create a unique look and design.
The "tee" on golf tournaments and signage
During spring and summer, hundreds of businesses, corporations, and organizations host corporate golf tournaments. You and your clients will get to have some fun in the sun while you:
Build relationships with your customers and suppliers
Raise funds for a charitable cause
Advertise your business and build brand recognition
If you want to keep things simple, you can host the event in a traditional tournament format. But you can add extra fun to the day by including some custom games or scoring to the mix. 
Golf tournaments might not work for all businesses and organizations. Overall, they usually work best for the following:
Community-based organizations
Charitable foundations like NPO's and NGO's
Firms with a B2B component
Organizations whose target market are middle-income individuals
This is because we often associate golf tournaments with attempts to raise money for good causes.
For this, you typically want to attract participants who have the time to partake and the willingness to spend money without necessarily getting a product or service in return. Remember that in many ways, this is not a typical business event. 
If you already have strong ties with other companies through B2B sales, for instance, it can be much easier to attract sponsors.
Take a look here if you want to find out more about golf tournaments.
What are golf signs:
Usually, golf signs have a pretty simple format. Most sign-making companies build them from sheets of printed coroplast or other corrugated plastic. Thanks to this unique material, they are super lightweight and cheap to boot. So you can commission a whole range of signage for the event.
However, for a larger budget, you could ask your sign company for their custom options, like constructing them from wood or other pricier materials.
Most golf signs are easy to use and install. Some will have thin metal frames and legs which you can pop into the green. Others are freestanding and have an a-frame.
10 Clever uses for golf signs
Unfortunately, it's easy for us to get stuck in patterns and habits. Many business owners and advertisers might only think of a few basic uses for golf signs. However, there is actually a long list of ways that you can successfully use these signs.
Generally, you are only limited by your creativity and ability to implement your ideas.
All in all, you can use signs at the event for a couple of key goals:
Information
Directions
Organization
Advertisements
Here are ten interesting and specific ways that you can use golf signs for your event.
1 – Hole sponsors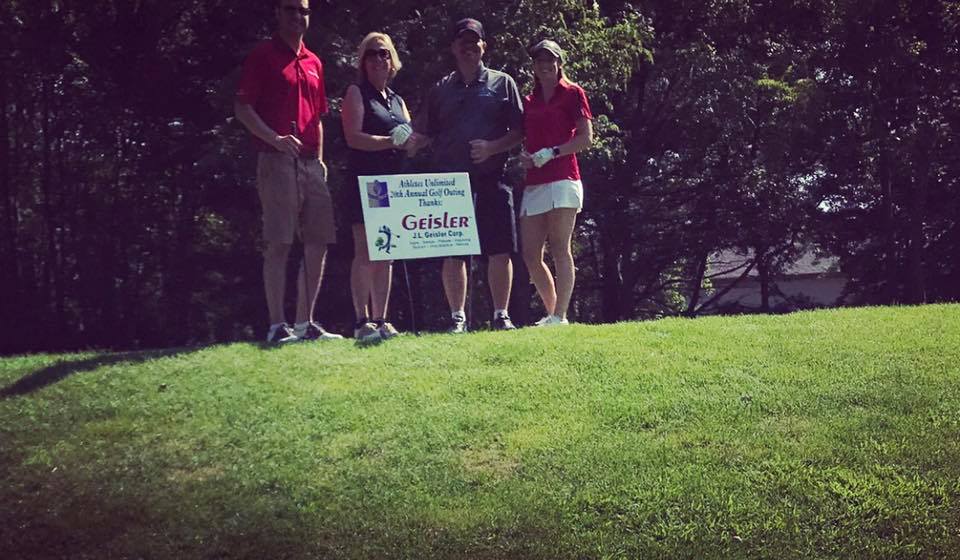 First off, we recommend that you commission golf signs for your hole-sponsor signage. The purpose of this is to recognize them for their contribution. Usually, this will be part of your agreement for their help.
Through this, you are both thanking them and creating an opportunity to advertise their business.
Above all, you want these signs to show off your sponsors. So you need to include elements of their branding. But they should also give information that's specific to the event.
2- Other sponsors
For a big event, you will likely get endorsements for specific features of the day. For example, you can ask someone to sponsor the lunch, breakfasts, and snacks.
All of these contributors also need to be thanked and recognized.
3 – Directional signage
Have you thought about the ways people will move around the course?
Golf signs can help you solve this problem. You can design a whole range of signs to direct attendants around the event. At the least, you need to point out the restrooms and other facilities.
However, you probably also want them to know where to find the registration table, the dining area, meeting points, and so on.
4 – Pre-event activities
On top of this, you need to create signs for all your pre-event activities. So to be clear, this will be all the proceedings before the main tournament starts. You can use golf signs for advertising features of the event as well as to help organize the activities.
A few popular options are:
Opening ceremony
Introductions
Raffles
Auctions
Putting contests
5 – On-course events
Similarly, you need signs for the on-course activities. Why not use golf signs for this too? You need to inform the participants about all the contests, the prizes, and the rules. These events are all about maximizing the fun but also reaching your funding and advertising goals.
They include:
Hole-in-one challenges
Longest drive contests
Closest to pin
6 – Rules for the day
Another clever use for golf signs is to print the rules of the event on them.
Whenever you host a large event, you will need to establish some ground rules. This is necessary to keep everyone safe and establish some order. In the end, this will improve the experience for all the attendants.
Luckily, because they are cheap and easy to make, you can produce more of them than you would be able to otherwise.
7 – Parking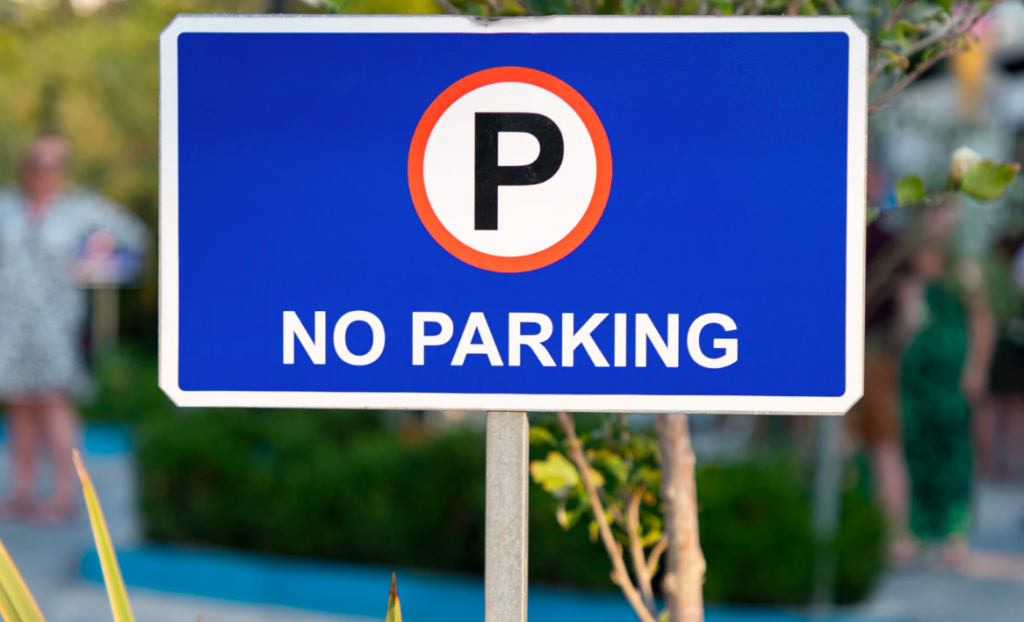 Hopefully, your event will be packed. You probably want to attract as many customers as you can. However, this will come with some logistical issues. One of these is how to sort out the parking.
You need to get everyone to stop their cars in the allocated spots and not block each other in.
Golf signs can be an excellent low-cost solution for this. Among other things you can use them to:
Point out where visitors can park
Allocate spaces for suppliers, staff, and vendors
Block out spots for VIP's, like sponsors
Show where no one is allowed to park
Mark wheelchair parking
Plus, best of all, the signage will fit in perfectly with the rest of the event's aesthetic.
8 – Caution and warnings
The best golf courses are often in unique environments. Because of this, they could have some unusual obstacles or require different precautionary measures. Besides this, you may also need temporary warnings for the event.
Once again, this can be the perfect use for your golf signs. Here are examples where you could use them to warn participants:
Animals on the range
Houses close to the course
Parking areas
Low flying aircraft
Check out this warning for lions on a golf course in South Africa's Kruger National Park.
9 – Top player updates
Much of the fundraising potential of a golf tournament depends on healthy competition. You want the players to hit as well as they can so that the sponsors can payout. So how do you encourage this?
Creating hype is usually great for competition. And this is where your golf signs can come in handy.
You can use the boards to give updates about the top scores and scores at the different holes. To do this, you can design them with an empty line to write or post updates. It will keep the excitement and competitiveness going.
10 – Welcome signs
Last but not least, you can always use golf signs to welcome guests to the tournament. Any event planner worth their salt can tell you that this is crucial. It's a great way to greet all the visitors and sponsors and to kick off the day.
You should put them at the entrance to the golf course, the driveway, the registration tent, or the parking lot. In other words, wherever they will have the most impact on the site.
Tips for designing golf signs
Generally, these boards aren't known for being flashy, nor should they be. Instead, the design should be uncomplicated and accessible. In this, their content needs to reflect their purpose. You should aim for a simple yet attractive look.
We've broken down the key aspects of this below.
Design an experience
Throughout the business world, more and more people are recognizing the importance of creating an experience for your clients. It's not just about the pictures on your ad or so on anymore.
If you want your business to draw in the crowds in today's market, customer experience should be your focus.
So ask yourself, what do you want the event to be like for your customers? And how can your golf signs help?
First, you don't want to overwhelm guests and visitors with too much information, too many graphics, and a kaleidoscope of color. For most people, this will detract from the feel of the day.
Second, by including helpful information in your designs, you can help the event run more smoothly.
Besides these two, the tone of the signs can affect people's moods. For example, they can be friendly, humorous, or playful.
Blend into the landscape
One popular idea for golf signs is to create them to fit in perfectly with their environment. You can work in elements like the colors green and blue. Or else you can use graphics that suit the theme, for example, pictures of grass.
If done well, this can make your sign aesthetically pleasing and can even add to the look and feel of the day.
But there can be some significant downsides. If the sign blends in too well, no one will see it! Or at least fewer people than would have otherwise. So you have to strike a balance.
Essentially, you want it to reflect the nature of the event. Yet it should still catch the eye. Therefore, it's all about balance.
A pop of color
Overall, a critical design challenge is always how to make your sign stand out. A tried and tested method for this is to add some color to your palette.
For this specific purpose, you want to choose a shade that will contrast to the blue and green of your surroundings. Therefore, white is usually the best choice for background color. It will be visible in every season.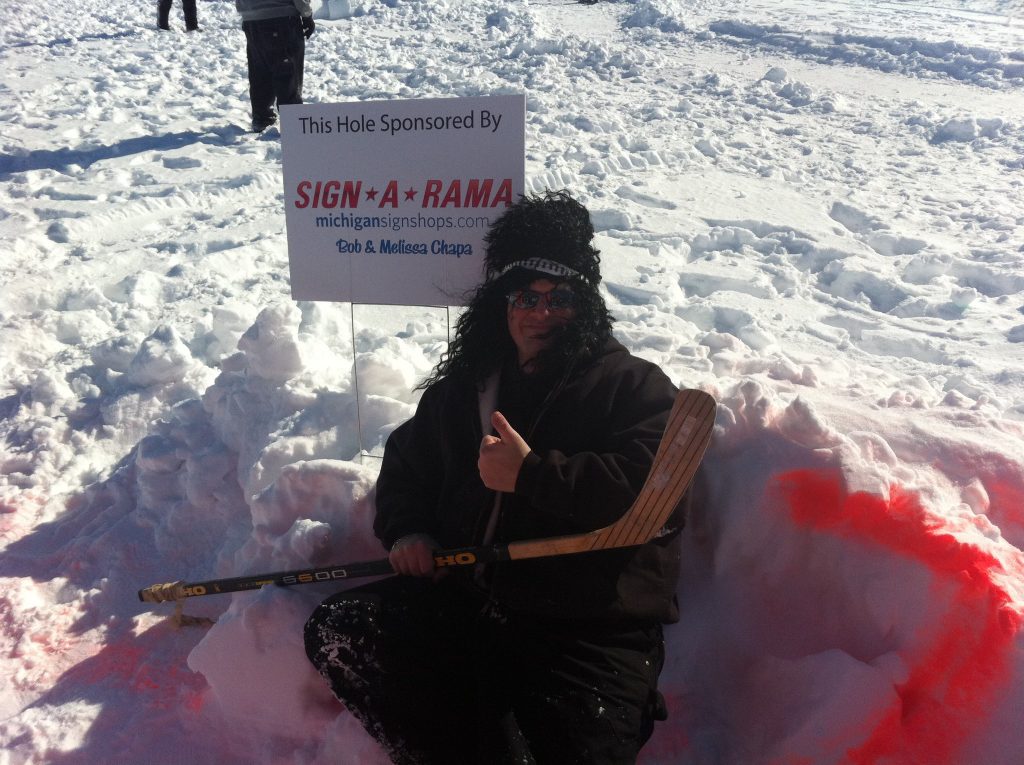 Pops of bright colors like red and yellow are also good choices for golf signs. You want just enough to draw the eye.
A note on branding
More likely than not, a variety of companies will be represented at your golf tournament. One of the crucial parts of acknowledging them is through signage. As we've said, this is typically part of the deal with sponsorship for these events.
That's why you need to have all the branding on point. Your audience needs to be able to identify the different businesses involved correctly.
To do this, you should use unique elements of their corporate identity like the following:
Logo
Color palette
Motto or tagline
Name
These are the basics of visual branding.
Golf themed content
Golf themed content on a golf sign at a golf event might sound like overkill. But it works. Most of the participants are there because they love the sport. The additional references won't bother them.
Instead, you can use them to contribute to and emphasize the spirit of the day.
Don't complicate things too much. It can be as easy as including a golf ball or club in the design. Or you can use relevant jargon and jokes.
Another good idea is to design the sign in the shape of a golf ball.
Create a positive experience
You will find it helpful to think of the golf tournament as a holistic experience. All the tiny details will contribute to the success of the day. Therefore, your golf signs can have a significant impact on the atmosphere and need to be designed with care.
But this isn't the only corporate bash where these products can be useful. Nor are they the only type of sign you can use. For more inspiration, take a peek at a portfolio of clever outdoor event signage ideas and creating & designing the perfect event registration signage.