Whether you're in the nonprofit world or the world of business, events are great ways to bring people together around a common cause or interest. And with a large (or small) group of people gathered in one place, signage simply makes sense. Naturally, event hosts might need promotional signs and wayfinding signs. But you'll also want to remember event sponsor signage—signage that helps you draw attention to the people or groups that make your event possible.  
So today, let's check out some event sponsor signage options for your event. From napkins to floor graphics to banners to wall wraps, you have plenty of options to choose from.  
To share or not to share
Sometimes your sponsors will be grouped together on your signage, essentially sharing the space. For instance, at a summit with 10-15 corporate sponsors, you might use a tradeshow display to promote their names and logos. They could be listed one after the other or displayed in a grid format. The same concept holds true for a 5K race. You might have numerous sponsors from the community, so it could make sense for them to share signage. 
However, there are also times when you may want to promote one particular sponsor in a way that truly sets them apart. For instance, if your event has various levels of sponsorship, then your gold sponsor just might merit a higher level of promotion than a lower level sponsor. 
Here are some options you can use whether you opt to have your sponsors share signage or not. Note that some might be more appropriate for promoting a single sponsor than others. So choose the option that best fits you and your sponsors' needs. 
Getting creative with event sponsor signage
Can you print your event sponsors' names on a simple sheet of white paper, hand out copies to each attendee, and call it your "event sponsor signage"? Certainly. But, why would you? Especially when you have other options that can offer a more eye-catching display.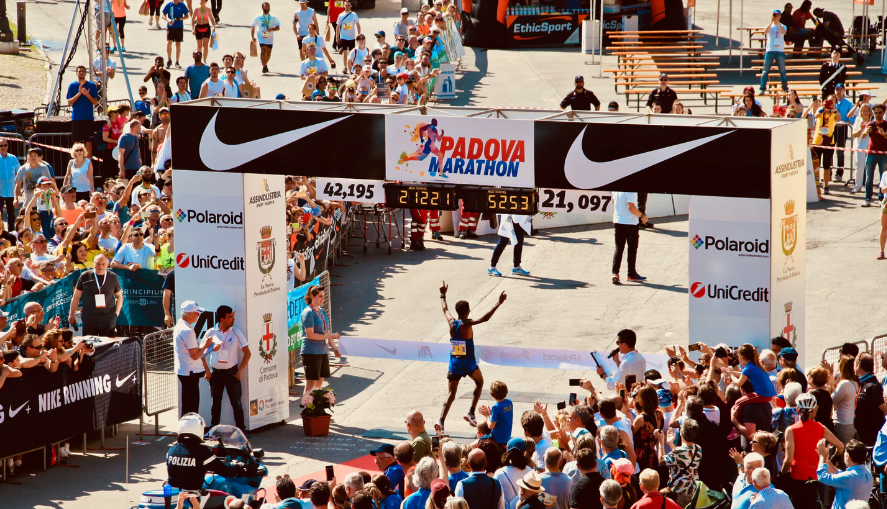 Banners
Banners are a natural option, and one that may come to mind quickly. While they may sound like an overly simple solution, we contend that your banner can be top-notch—thanks to the quality of your materials and design. So choose a sign company that can create an excellent product and provide them with masterful graphics to get the banner off to a great start. 
Countertop/tabletop displays
Remember that if you have a registration table at your event, that's a prime place to catch the attention of your attendees. After all, if everyone has to head to the registration table on arrival, then everyone will get a chance to see your display. Make that count by creating event sponsor signage that can sit on the surface of your registration area. 
Wall wraps
It's easy to think of a wall wrap as a sign you would only use for your own company or organization's branding. But actually, if you have an ongoing relationship with your event sponsors (or if your event spans a significant period of time), a wall wrap could function as interesting event sponsor signage. 
Floor graphics
Just like wall wraps, floor graphics that promote your event sponsors could provide an eye-catching signage option. Design them well to truly delight your attendees and even your sponsors themselves. 
Branded balloons
Balloons add an undeniable level of festivity and cheer to any event. But branded balloons? Now, that takes things a step further. They're a way to promote an upbeat attitude and give a shout-out to your sponsors at the same time. 
Printed napkins
Just like branded balloons, printed napkins may be small, but when it comes to event sponsor signage, they could pack a powerful punch. If your event includes food of any type, chances are people are going to want napkins. And that means you have those food consumers as a captive audience. They can refuel and be introduced to your sponsors at the same time—via the food and napkins it's served with. 
Branded tablecloths
Another great idea is to get tablecloths printed to display the names and logos of your sponsors. This could be great if your event includes food. But even if it doesn't, you can use a stretch table cloth on the tables in a conference vendor hall. 
Yard signs
Yard signs are one way to promote your sponsors outside your building. And just as we said with banners, your yard signs will be excellent if you begin with high-quality materials and top-notch graphics.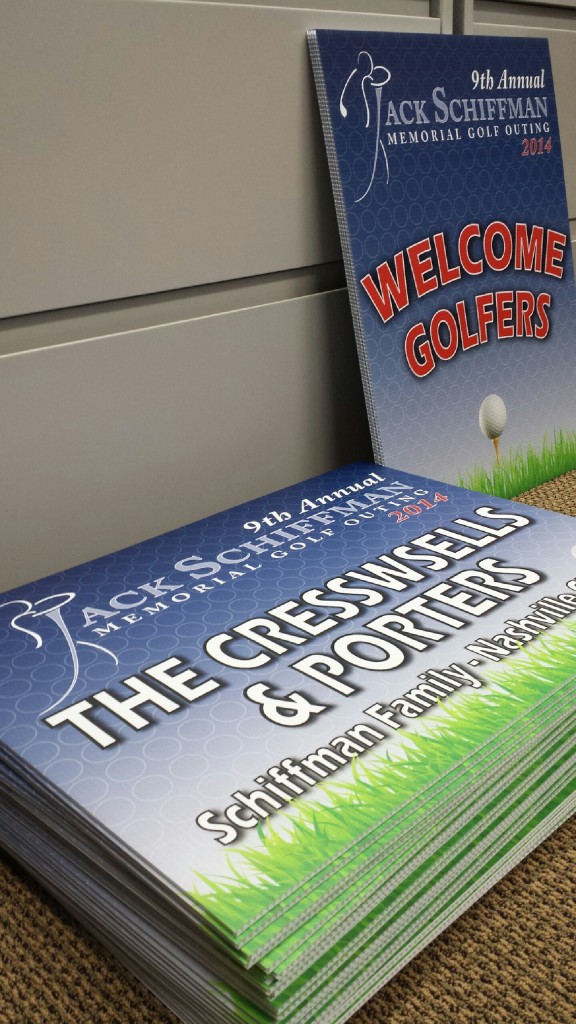 Vehicle wraps
When an event truly calls for taking your event sponsor signage to the next level, vehicle wraps are a perfect option for making an impression. And if your event involves traveling on major roadways, this could be a great way to go.
Something to bring home
It's also a great idea to provide event attendees with information about your sponsors to bring home. This helps you honor and support your sponsors in an ongoing way. There are plenty of ways to do this. 
T-shirts
Depending on the relative formality or informality of your event, T-shirts could be a great option. While you may not originally think of them as signage, if your event attendees wear them, then they're mobile signage by default. Maybe they're not as obvious as a sandwich sign, but they do function as a means of promoting the event. 
Printed bags
Print your sponsors on event swag bags. That provides moving signage that can continue to promote both your event and your sponsors long after the event is over. 
A sign is worth a million words
When you have great things to say about the groups that back you, you need to create great event sponsor signage to get the job done right. For more, learn how to choose colors for your signs with The Best Tips On How To Mix & Match Colors On Signs.