Are you looking for a way to promote your company in the construction industry?
If so, we might have the answer for you. A construction signboard can be the ideal way to advertise your business on-site. You can use it to catch the eye of an audience who is already interested in hiring building services.
But before your construction sign board can start working for you, you need to design it to get the ultimate impact. We are going to discuss everything you need to know about the process from start to finish.
What is a construction sign board?
You might also know these products as job-site signs.
Generally, you can use them at any location where you are going to be working or where your services have been hired. You can install them on your worksite, the sidewalk around it, or the boundary, like a fence around it. 
Most sign companies will make the sign from long-lasting materials like wood on which they will print the graphics or design of your choice.
Thanks to this sturdy and durable construction, you can move it around and use it again and again on multiple sites. Therefore, think of this product as a long-term investment.
All kinds of businesses can benefit from these signs, for example:
Construction
Painting
Landscaping
Electrical
Home remodeling
Roofing
Plumbing
Interior decorator
Painting
Job sites are usually high traffic areas. Hundreds, perhaps even thousands of people will pass by it or through it one day on foot and in vehicles. It would be a waste not to take advantage of this advertising space.
Benefits of construction sign boards
So how can this help you advertise your company?
First, it can help you get referrals from other companies who are working on the site or from any clients or guests visiting the site. The best part of this is that these will probably be people who have some interest in contractors in the construction industry.
Second, you can catch the eye of passersby. People are naturally curious every time they see a new construction site. So it won't be too hard to catch their attention. With a branded sign, you can spread your feelers wider than your own industry and gain broader exposure.
Therefore, you can cover several bases at once with a construction sign.
But besides all of this, it can have some practical value too. Many businesses have found that a well-mounted construction sign board can help you hide the unsightly features on a job site. Overall, it can help you brighten up what can otherwise be a rather unattractive environment.
You can also think of the sign as an information board. It's a relatively low effort way of communicating what the site is for, who is involved, how long it will take, and so on.
More importantly, all construction sites need to comply with safety standards set out by the relevant authorities like OSHA and ANSI. One clever use of these signs is to communicate some basic safety info as a supplement to other specialized signs.
For example, you can use it to remind anyone that this a construction site and that caution is advised.
When it comes to safety, every little bit can help.
The design process for a construction sign board
Regardless of the type of sign you are commissioning, you will follow some kind of design process. This is necessary to make sure that the sign is suitable, effective, and can help you meet your goals.
The process might seem a bit tedious. But remember, your audience will see the sign as a reflection of your business and your brand.
Put yourself in the viewer's shoes. This will likely be their first encounter with your business. And if all they see is a shoddy low-quality sign, their expectations for your service might be on par, whether this is true or not.
Therefore, it will be well worth your time and effort to put your best foot forward.
1 – Decide what you want to say about your business
First, you need to decide what you want to say with your sign.
Overall, this is one of the most important decisions you are going to make. If you are using it for advertising purposes, ask yourself what you want the audience to take away from the sign, for example:
The services you are offering
Company's contact details
Your brand identity
The name of the business
Your approach – for instance, friendly or professional
It's this information that will help you narrow down the content for the sign.
2 – Start designing
Only when you've figured this out can you start creating the design. You need to keep the end goal in mind the whole time.
If you have an eye for style and some graphics skills, you could complete the whole image by yourself. In this case, you should check out this list of the top software for designing signage.
Otherwise, you can hire a professional designer. Many sign-making companies can also assist you with this.
If you decide to go this route, it can be helpful to bring your ideas with you even if they are very rough.
3 – Consult your sign company
It's important that you try to hire a reliable sign making company early in the process. They can significantly help you throughout the steps.
We recommend that you consult them about the design that you have in mind. They know all the ins and outs of signs, and they can tell you whether your concept will works. For example, some color combinations might not look as good when they're actually put in print.
On top of this, your sign specialist can advise you about the costs and how each element can reduce or increase the price.
4 – Review and finalize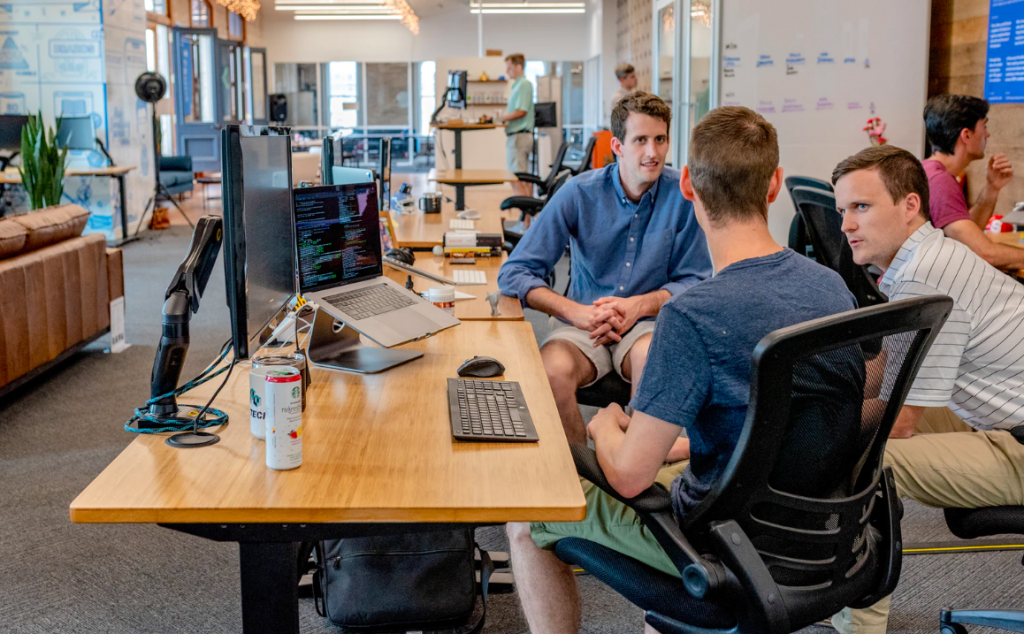 After consulting with everyone involved, you or the expert can finalize the design. Depending on the situation, you might need to go through several rounds of revision until everyone is satisfied. However, by setting precise requirements and with clear communication, you can streamline the process.
5 – Proof
Before you send your design in for printing, it's useful to ask for design proof. This will either be a digital version or a printed mock-up that will give you an idea of what the finished product will look like.
Usually, this will be your last opportunity to check for any mistakes in the design, like spelling errors, and correct them.
Now you are ready to print the sign.
But before you jump the gun, let's take a look at the critical aspects of the design.
Tips for designing the elements of a construction sign board
One common misconception about design is that it only involves the graphics or whatever is printed on the face of the board. But a well-thought-out plan should cover everything from the dimensions of the sign to the way it will be installed.
To help you get started, below are some expert tips on the critical elements of construction boards.
The material
First things first, you should decide which material you want the sign to be printed on. If you want the board to come anywhere close to a job site, it needs to be durable. You want it to be able to withstand knocks and bumps.
That's why most companies use materials like wood, aluminum, or composites.
Generally, the price and your budget will play a critical role in your decision.
Aside from the board, you should also decide how the sign company will print and treat the face. For example, you could ask about finishes like UV protection to keep the surface looking new for longer.
The location
Next, you have to pick a spot for the construction sign.
One of the criteria should be how many people will be able to see it. You want to place it in a high traffic spot for optimal effect. The viewing distance and height will also factor into this.
Another consideration should be local permits and regulations. Different states and neighborhoods have different requirements that you need to fulfill. For more information on sign regulations in Detroit, you can take a look here.
Name and logo
You don't want to leave people guessing. Anyone who sees the sign needs to immediately know who it belongs to. The basics for doing this is displaying your name and logo.
Take a look at this sign we made for CEVA Logistics. Their name and logo is loud and clear.
A few ways to make sure they stand out are the following:
Choose a different color for the logo and the name than you used for the rest of the sign
Make sure the font and graphics are large enough. Generally, you can design them to be slightly bigger than the other elements.
Print them near the top, or the middle of the board so that they catch the eye.
The layout of the sign
Another key feature is always the layout of the design. The individual elements could be perfect, but if they aren't arranged correctly, they won't make a positive impact. It plays a major role in the impact and advertising potential of the board.
Significantly, as we've seen above, you can use the layout of a sign to emphasize specific elements. To do this, you can place it at the top of the center of the design.
The general rule of thumb is not to use too much content. You don't want it to be too crowded because it will detract from the impact of each and make your sign less attractive.
Don't be afraid of white space. It usually improves the overall appearance and effect.
Use graphics sparingly
Generally, you don't want to use too many images or graphics for construction sign boards. In this way, they are often quite different from other types of signage. Above all, you want to show that your company is professional and reliable.
If you do use images it should be for a specific purpose. For example, your image can: 
Help to demonstrate what your business offers
Show what the project will look like when it's done
Share a striking message for a significant impact
Luckily, using fewer images can help to keep the printing costs low.
Pick your words with care
All in all, this is the most straightforward tip but can also be one of the most challenging to follow.
You want to use as few words as possible. Many businesses have even made impactful signs with the bare necessities. In other words, by only including their company's name and contact details.
Most of the time, you don't have to go so sparse. But still, try to keep it short and sweet.
For the words you do use, be sure to format with a readable font in a suitable size. 
Recognizable branding
The name and logo of your business are critical parts of your brand and its visual identity. But they aren't the only features. Each and every element of the sign should reflect your branding. From the images to the colors, they should reflect your business.
To make your signs effective, you want them to form part of a coherent advertising strategy. They should fit with each other and complement each other.
This is one way you can promote your business successfully and make it more memorable.
Part of your marketing
Creating unique signage like a construction sign board can be a great step toward growing your business. With some clever design tricks and marketing secrets, you can attract new potential customers, generate leads, and encourage people to give your services a try.
But whenever you plan on launching an advertising campaign, it's crucial that you remember it's a process. Promoting any business isn't only about commissioning one sign. Instead, you should make your signage part of a much wider advertising strategy.
For more…
As we've said, a critical part of marketing is your brand identity, so be sure to check out the importance of brand awareness to the success of your business.