With our world becoming more and more conscious of the environment we find our customers asking, what options for green signs do I have? At Signarama Troy we try to be as environmentally friendly as we can. We use recycled materials as often as we can, donate our used materials for re-purposing, and seek out inks and solvents which are kind to the ozone.
One substrate option we  provide you with at Signarama Troy is MDO, also known as Signboard. It is an exterior-grade plywood with a high-quality paper face saturated with phenolic resin solids.  The plywood below the paper face is smooth, clear and free of patches, providing a smooth surface with minimal grain showing through.  MDO plywood is water-proof and weather-resistant.  MDO plywood can be printed on, cut, nailed, routed, shaped and drilled.  Although this product is designed for exterior use, it works well inside the home in areas that need to be smooth and hold up well to moisture.  This product resists inclement weather areas well.  It is often used for exterior signs and sub-board underneath laminates for counter tops.  It is recommended to apply an exterior grade primer and paint to this product if using in an exterior application.  Primer and paint adhere nicely to the paper face.  When applied with exterior grade primer and paint, this product holds up much better than regular plywood.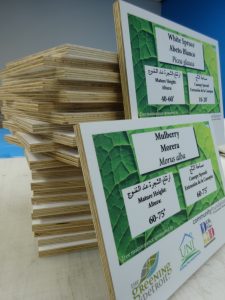 We used MDO to produce multiple green signs for an exterior application for The Greening of Detroit. They approached us with a project to produce signs with a "green" base for naming trees throughout several parks in Detroit. We printed them full color on our flatbed printed and capped the edges off with white trim.
The Greening of Detroit is a well-established, nonprofit resource agency that partners with federal, state and local agencies, corporations and foundations to assist neighborhood groups, churches and schools in their efforts to improve the ecosystem in Detroit through tree planting projects, environmental education, urban agriculture, open space reclamation, vacant land management, and workforce development programs.
To learn more about The Greening of Detroit please visit: http://greeningofdetroit.com
Source: http://www.capitolcitylumber.com