There's so much to be done when planning a wedding. Of course, you want all the details to be accounted for on this delightful occasion. You know you'll need to have a venue and probably food plans in addition to sending invitations and planning the ceremony. Here's one other detail to put on your wedding to-do list—acquiring your custom signs. From the cheery "Mr. & Mrs." signs to directional signs letting everyone know where to find the seating or the food, remember to plan your signs alongside everything else.  

Let guests know
Your guests are giving you the gift of their presence, so go ahead and give them a gift of your own—the gift of knowledge. Make it easy for them to determine where they and their contributions, like presents, should be at any given time. Of course, for some events (like the ceremony), the program will help with this. However, another helpful key can be the signage you provide for your wedding event.

Signs may make your guests feel more comfortable—easily pointing out where they're supposed to sit or drop their gifts, for instance. Let's dive into some possibilities.

Ceremony signs
Here, directional signs could be the order of the day. Depending on the size of the venue you've chosen, guests may need to be pointed from the parking area to the ceremony seating. Plus, signs can also be useful for the seating area itself—informing guests whether they're supposed to seat themselves and if so, on what side they should sit.

Rehearsal signs
While a rehearsal may be informal enough that you don't feel you need directional signs, it could be a great time for a sign test run. In addition, it might be a good opportunity to knock out some of your set up ahead of time. Placing directional signs before the rehearsal might be just the way to iron out any ambiguities and to get signs all ready for the actual event.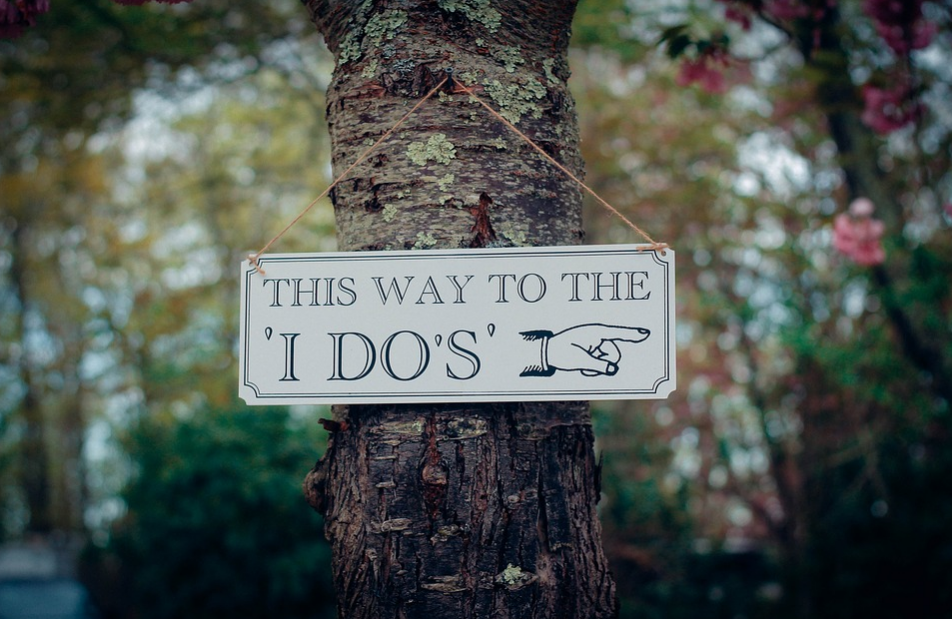 Reception signs
Certainly, there are plenty of differences that could affect your sign situation based on the venue you choose. A sprawling location may need more directional signs than a compact space (in a small space, guests may simply be able to follow the sound of the other guests' voices). But even in a compact location, there are still plenty of sign options. For instance, you may put signs to work marking the space where gifts should be placed. Or you might hang creative "Mr. & Mrs." signs that celebrate the recently-tied knot.

Shower signs
Unlike the wedding and the reception (and possibly the rehearsal) which could all be in the same location, the shower will most likely take place somewhere else. Again, that could call for signs to point the way—indicating which driveway, home, or hallway guests should head for. Signs can list the order of events which could take some pressure off hosts to bring guests up to speed. And, of course, they can also point out relevant areas like where coats should be hung, presents should be left, food should be placed, etc.

Creating signs equal to the occasion
Now a special event calls for special signs, so what are some examples of custom signs you may want to create for this wedding? As we've already mentioned, you may want Mr. & Mrs. signs or signs that say Drinks, Food, or Gifts in the appropriate locations. But don't think you're limited to "necessary" signs like those. Actually, your sign could have more than just the who, what, & when of your event. Maybe you'd like a custom sign displaying a happy sentiment or quote.

Signs every which way
Once you've decided what words your sign should display, there are other questions too. How will you display your stand? And what material should it be made of? There are plenty of display options for you including:
Placing a sign on a sign stand (either in portrait or landscape orientation)
Using an A-frame sign
Creating a sign on a stake to be pushed into the ground
Painting/drawing your sign in a picture frame that can be propped up against a nearby bush
Creating a custom pallet sign
Using a string or wire to hang a sign.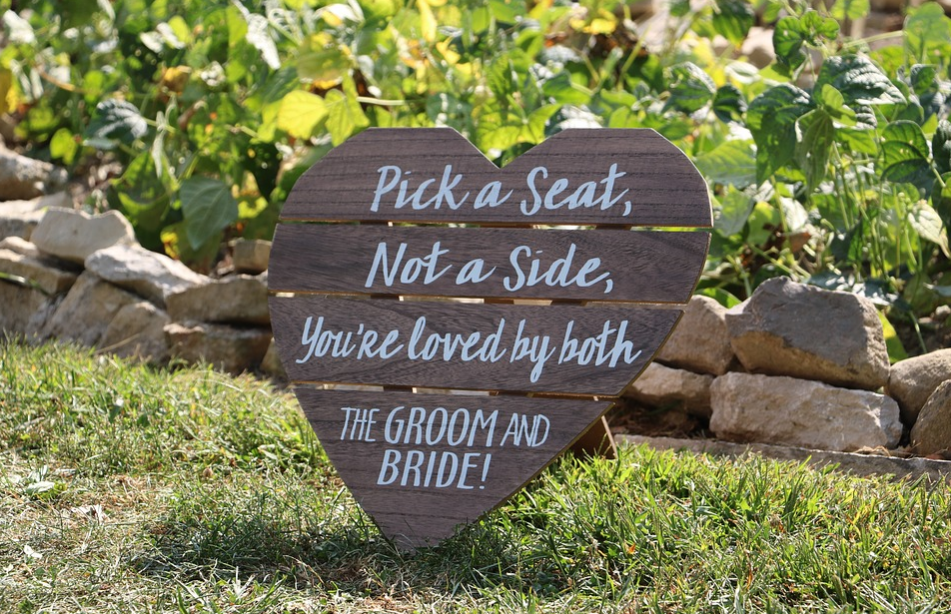 And when it comes to your sign material, have a little fun experimenting with surfaces. There are plenty of ways you could go with wood for instance — a more polished wood for a classy look perhaps or a rustic upcycled piece to add a country touch. Glass or plexiglass are surface options, too and could even give you the chance to display a gorgeous floral arrangement behind the writing.

More isn't always better
When designing your custom sign, don't feel pressured to cram a lot into your space. Sometimes, a simple statement could be more striking than several lines of text. And of course, you want your signs to blend with the rest of your decor — like whimsical signs for a lighthearted event; rustic signs for an outdoor, country event; and striking black and white for formal elegance, perhaps.

Remember that you can use different fonts. However, pick fonts that work well together. Ensure all writing is legible, too. Plus, you might even choose to hire a professional hand letterer to take your sign to the next level. They have the ability to turn a project that is beautiful in your mind's eye and turn it into a lovely item in the real world.

Get off to a good start
Whether you're creating the signs yourself or getting some help from a sign professional, start early to avoid a pile-up of work as the event date approaches. And if you still haven't chosen a location for your wedding event, take a look at our party venue ideas. Plus, remember to enjoy the whole process! Have fun on the day itself and as you prepare for everyone involved to have a great time.