One of the biggest challenges you will face when trying to get support for a cause is how to get the word out there. You need to plan a promotional campaign to get some exposure.

Signs can be invaluable in reaching this goal.

Well-thought-out elements can contribute to making a sign successful. And these have been used again and again to create brilliant products. You can study existing signs to learn from their strong points.

That's why this article is all about looking at different signs and how you can use similar ones to promote your cause. This will include some signs done by us at Signarama.
Yard sign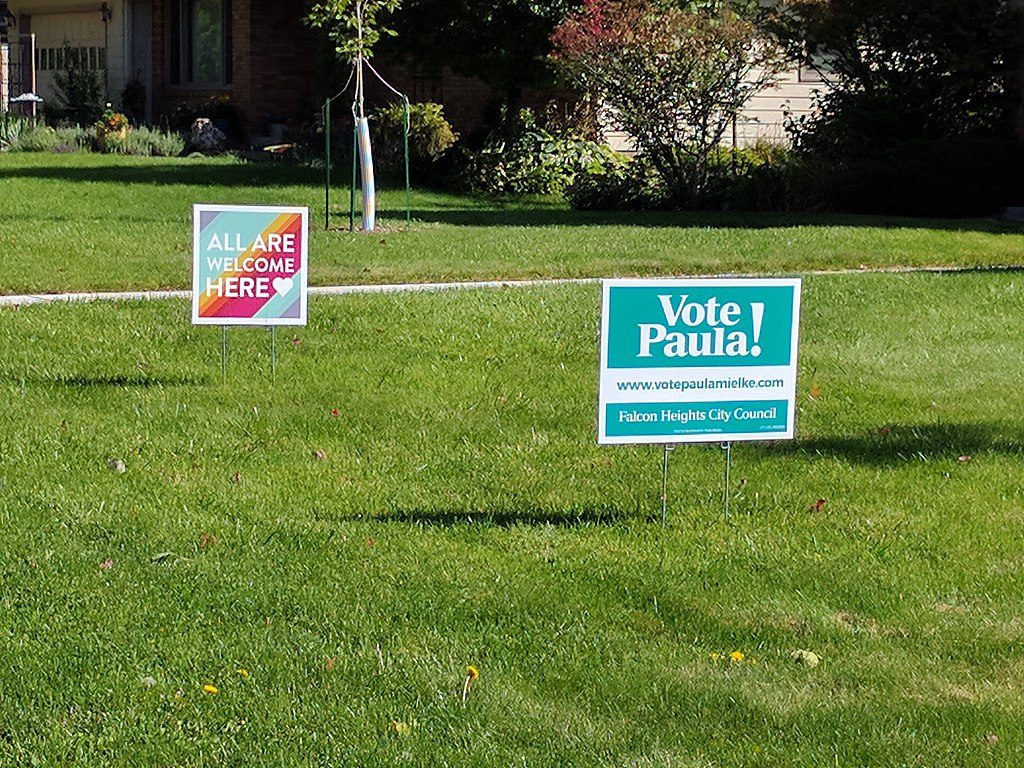 Are you looking for an affordable and temporary solution to promote your cause?

You might need to look no further than coroplast yard signs. They are super low-cost. This means that you can buy and use more of them than of other types. You can also replace them when you need to communicate new information.

Here are some fantastic benefits of this signage:

Durable: The coroplast material from which they are made means they are waterproof and quite durable.
Eco-friendly: If you are promoting a cause, you are probably interested in making more conscientious decisions. Luckily, the corrugated polypropylene plastic of yard signs can be recycled. So you can get support for your campaign without harming the environment.
Cheap: You can have them printed for as little as $0.65 per sign.
You only need to worry about finding a lawn or grassy area to put them on.

The specific boards in the picture stand out for several reasons. First, they use bright colors to catch people's eye and the white border contributes to this even more by contrasting against the grass.

One of the principles they followed is to print the words in white on a colored background. This increases their readability.

You can use similar signs to gain exposure for your movement and advertise specifics like events.
Wall murals and wraps
One type of sign that can be really useful in promoting a cause is wall murals or wraps.

The example here shows how bright and attractive the can be which is very important in signage. And it shows how signs can include images and text. It's vital to include both of these in promotional materials for any cause.

On top of this, it demonstrates that it can be used to cover entire walls. You can place it in any physical location that is involved with your movement. But places like shopping centers will often make space available to rent for this use.

One good thing is that they can easily be replaced. If you used wraps, you can remove it and paste new ones. With murals, you can paint over the old signs. So you can update them as your movement and campaign advances. Keep in mind that people are more likely to support causes which are making progress.
Window graphics
Many causes and campaigns have physical locations that act as a base of operations. If that includes you, you need to get some signs for this as well.

A fantastic option is to choose signage that can double up as promotional material as well as decor. Window graphics could fit this bill.

You want to use signage like this that is colorful. It not only catches your eye, but it is also visually appealing. Here, not only the background is bright, but it also includes images which help to show the purpose of the store.

On top of this, there is text too which gives additional information.

That is why it can work well for getting support for a cause. It can increase exposure, help educate, create appeal, and tell people how they can contribute.

A-frame sidewalk signs
Another way you can promote your cause is to use A-frame sidewalk signs like the one above. The board is used for advertising a venture, but it also has a call to action by providing a phone number. So you can use these to let people know how they can give their support.

One feature that the sample shows off is how to use more than one. You can use a few with different messages and place them in succession to communicate more information.

The following are some pros of using A-frame sidewalk signs in your campaign:

Portability: One of their best features is that they are freestanding and can be moved around as you wish. You can take them wherever you need them most.
Outdoors: They are usually manufactured to be used outside, so they are made to last and resist weather conditions like wind and rain.
Indoors: But you can put them inside as well. They work great at events like the ones often used as part of charitable movements.
Directional: Another possible use of these products is to point out directions. Again this can be vital at events.
Affordable: They are relatively inexpensive to manufacture.
Time: Time is such a valuable resource. Many signs like billboards need to be read at a glance. But because sidewalk signs are usually seen when people walk past, people often get more time to look at them and take in their message.
Their versatility and flexibility make them fantastic tools to gain exposure and support.

Vehicle graphics and wraps
If you want to gain support through exposure, there are few better options than vehicle graphics and wraps. What can be better than an ad that can literally move around?

You can cover the same ground with this one product as you would by using a large number of static signs. Therefore, you could save lots of money in the ned. This is generally crucial in any charitable cause or movement.
One look at the sample will show you how flexible they are. These wraps can be designed exactly as you want it to look using graphics, text and a combination of the two.

Sometimes the wraps will only cover a small part of the vehicle. But you can cover the whole car too like above.

A positive aspect of the example is how readable the text is. This is vital with a sign that moves around. Besides this, the writing is placed where it can be easily read on the side of the vehicle. It can be a great idea to put it on the back of a car as well.
Banner
Banners are a staple of the signage industry. You can see them almost anywhere. And no wonder! They are cost-effective but are still very successful.

The examplehere shows how simply they can be used to advertise a cause. Designers kept this specific one simple. This can work well for promoting a cause especially one that is well known or if you put them up at movement-related events.

However, you could print out much more information on them if you want, including contact, details, etc.

Banners are extremely versatile. The one in the picture was printed so that you can hang it horizontally. But this isn't your only option. You can typically customize the size and orientation as you wish to suit your needs.

Manufacturers usually offer ones that need to be hung as above, but they could also provide free-standing ones.
Educational banner
The banners we looked at first are mostly used to gain exposure. But they can also be used to focus on conveying information.

People are more likely to support a cause when they understand what it's all about. Well-designed banners can be a brilliant way to do this. Through education, you can get more exposure and persuade potential supporters.

The sign above shows how you can cleverly use them to bring a point across.  You want to be careful not to overwhelm the audience with graphics. People are more likely to look at and read your sign when there are images included.

This means they're more likely to remember the message too.

You will notice that even though this sign conveyed a lot of details, it still kept it short and straightforward. This is key in all types of signage.

Besides this, it obviously offers all the other benefits of banners like being affordable, flexible and customizable.

Golf signs
Golf is frequently called the greatest game. One way it lives up to its name is how often it is used to help promote and gain support for causes.

Through sponsored games, it is a brilliant way of gathering money and getting people involved.

But they won't necessarily be useful if you don't use signage and other features to make sure people know what it's all about. So if you want to use golf in your campaign, it can be a good idea to invest in golf signs.

Thesigns here are made from coroplast which is inexpensive and weather resistant. They are printed and folded so that they are freestanding. You can also print out a range of different ones like these and can place them all around the course.

You can use them to advertise your sponsors and even point out who is sponsoring which hole. A great idea is to design a logo or something similar with the name of the cause and print it on all of these boards as in the example.
Billboards
You don't get much bigger than billboards. They are definitely statement pieces.

They are essentially large posters. Therefore, they are great at catching your audience's attention. Besides this, they are often placed in spots where tonnes of people will see them regularly over roadways and so on.

As you can see with the example above, they provide a lot of room. You will be able to include loads of graphics and text. This is fantastic for promoting a cause. It can help to convince people to get involved by educating them. It should also give your contact details and actions they can take to provide support.

Like the sample, you can choose a font that is large enough to read from the ground. You should make sure that the text stands out from the background by using contrasting colors.

You can also learn from the use of photos on this board. On it is printed a picture of a woman, and her story is connected to the cause. Using emotional appeal is crucial in promoting a charitable cause.

Unfortunately, they are much more expensive than some of the other options. You usually have to rent advertisement space for them. They are on the high-end of adverts.

But, they are very durable and long lasting so they will keep on being of use.
Combining signs
You might feel that one sign isn't enough. And there is no reason to limit yourself.

Marketing pros know how to use different platforms to achieve their goals. For maximum efficiency, you can even use them in the same location. Just check out thisexcellent use of floor graphics and wall graphics.

Placing printed materials on several surfaces in one spot can undoubtedly increase their overall impact. It's rarer than only using one type, so it makes it much more memorable.

Another positive feature of this example is they used all the space available to their advantage by printing different graphics and text on each.

So if you want to not only gain exposure but make sure people don't forget you might want to consider similar combos.
Learning from the past
All of these signs are great examples of how you can use these products to promote your cause. The different options can work better for specific locations and parts of your campaign.

These samples use a variety of principles to help make them more useful. Hopefully, they can inspire you by showing you how you can use them to get more support for your cause.

There is a lot of work that goes into making fantastic signs of any kinds. To help you make the most of it read our articles on mistakes when making promotional materials and the psychology behind good signage.