Some signs and symbols are so common we simply take them for granted. For instance, the iconic red and white stop sign is everywhere—and we're quite used to it. But have you ever thought about the fact that some signs may appear in one area while not in others? Similarly, some areas could have a higher concentration of one type of sign than other areas. Today, we thought it would be fun to explore some fascinating sign info you may never have considered! 
Head south for stops and billboards
Florida is more than just a popular vacation spot. It's also notable for having a lot of two types of signage, comparatively. But it does have to share some of the distinction with a non-contiguous US state. Read on for details.
What state has the most stop signs?
Since stop signs are so common and recognizable, let's begin here. My Parking Sign and its affiliates used their sales data to come to some fascinating conclusions about stop signs. Their conclusion? "Hawaii has more stop signs per mile than any other state…" Next up was Florida, with Delaware coming in third.
Think your own area has too many stop signs? Well, maybe you should take some inspiration from the city of Paris—which has none.
What state has the most billboards?
We all know these popular outdoor message boards. They spangle America's highways. Sometimes, they're advertising luscious sandwiches available at a restaurant off an upcoming exit. Other times, they're promising a drink to slake a traveler's thirst. Still, other billboards promote community events like a 5K race or a play at a local theater.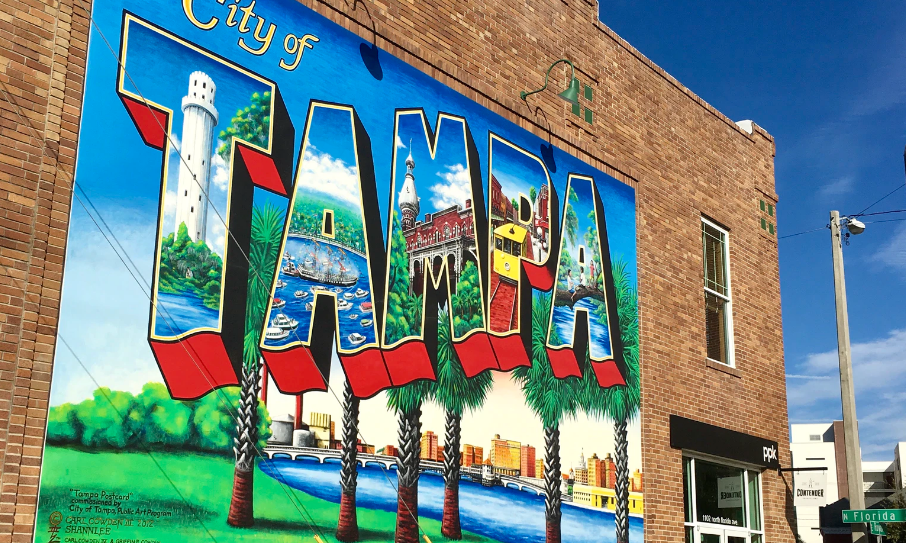 These signs are a great way to reach consumers whether they live in your community or are simply passing through. So, which state has the most billboards? 
According to BMedia, "Florida leads the pack with a whopping 11,109 active permits on file for billboards throughout the entire state." Who knows? Maybe the rampant outdoor advertising has something to do with the fact that Florida is a popular tourist destination. Not to mention a common target for snowbirds.
Hit the curves in one New England State
Can you have too much of a good thing? Connecticut just might.
What location has so many curve signs that it sparked protest?
Curve signs can be useful, without a doubt. They alert drivers that they're about to engage in some serious steering wheel cranking & braking action. And anyone who's ever swung too far into the other lane because a curve caught them by surprise can imagine the accidents that curve signs are designed to prevent.
Still, if there's such a thing as too many curve road signs, several Connecticut communities have that problem. At least according to certain residents. The News Times reported that "Officials in Sherman, New Milford and Ridgefield are now trying to remove some of [the signs], saying the number is excessive, especially in the bucolic areas. In New Milford, there were 339 signs installed on 14 roads and Ridgefield now has 86 signs on two roads."
Even the mayor of New Milford had concerns. Speaking about a specific road, the News Times quoted him as saying, "'Definitely, a few signs are needed on it, but there's 52,' he said. 'To me it's the number of the signs impacting the roadway. Residents want it scenic too.'"
Major midwest city needs cautionary cold weather signs
If you think about ice and snow as a problem for states like Alaska or Maine, think again. Don't forget to count Midwest cities in as potential problem areas.
What major US city places "Caution, falling ice" warning signs in their downtown?
While there may be other major cities with the exact same problem, one city's warning signs made the news earlier this year. It seems Chicago has placed these signs for quite a few years—since an ice-related tragedy. Check out the full story at the Chicago Tribune.
Don't forget the non-contiguous US. Here's an Alaska-specific sign.
Let's face it, there are plenty of hazards you could confront while driving in many different areas of the US. But some dangers are a bit more location-specific than others. So, it would stand to reason that some signs might be unique.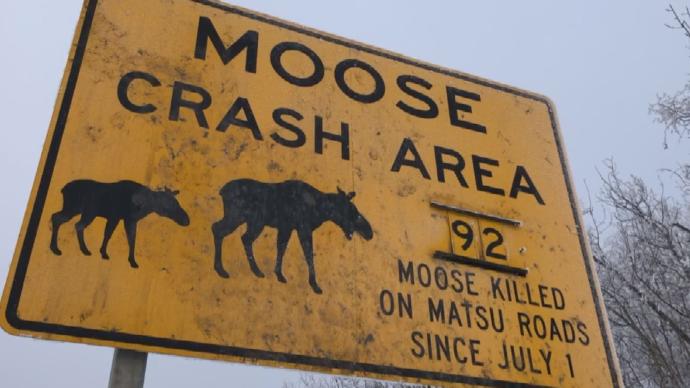 And in Alaska, there's one sign that the Anchorage Press called "the most unique of Alaskan signs, the rectangular one depicting a cow and calf crossing the road and a changing tally of how many moose have been killed by cars in that area so far that year."
Alaska should surely get bonus points for that creativity. But it's not exactly a sign idea they can share with the world. After all, we don't think they'll have much success convincing Florida or Texas that they too need a moose tally sign.   
Zeroing in on Michigan
It wouldn't be right to leave without taking a quick look at our home state. You don't need us to tell you what Michigan winters are like, but you might be wondering how many ice warning signs for bridges our chilly state has.
Looks like you're not the only one talking about this. Ice warning signs for bridges in Michigan became the subject of a discussion on Ask MetaFilter last year.
Here's what one poster had to say, "Well, I was all set to do some napkin math, but while gathering the necessary facts I stumbled on this MDOT page that claims Michigan has "10,754 roadway bridges". It isn't entirely clear what counts as a bridge (are overpasses bridges?), but an estimate of 20,000 signs seems reasonable on this basis."
While it's certainly not an official statistic, it does prove that there are other curious minds out there wondering about Michigan road sign statistics.
More fun sign information
If you're looking for more fun sign topics, check out our Is It Okay To Use An Emoji In Marketing? Can I Have One In My Logo? Plus, have fun looking at 3 Of The Most Creative Signs & Banners In And Around Detroit.