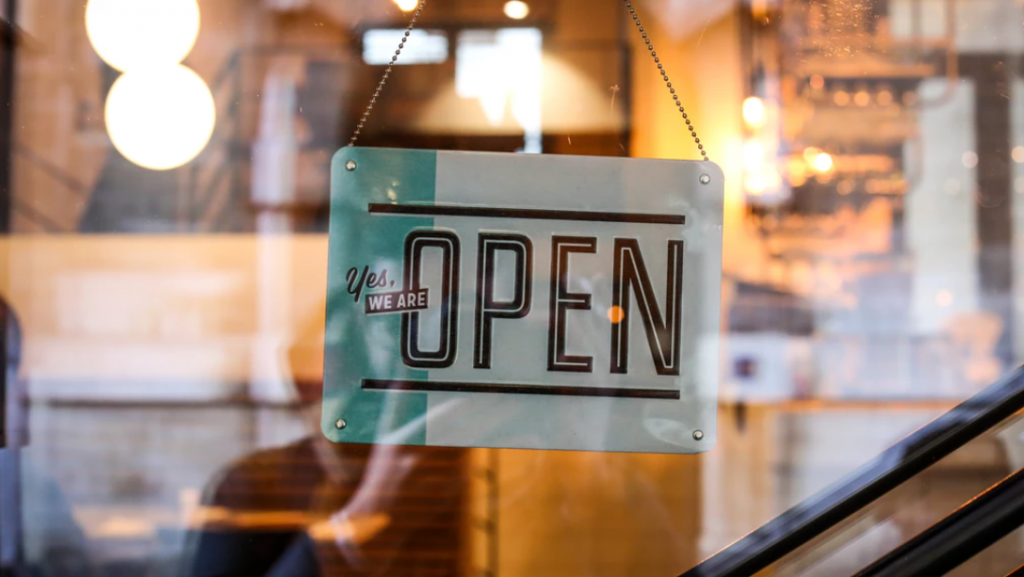 Services include:
Protective equipment for workers, like face shields and sneeze guards
A new full-service COVID-19 online product shop
Branded, informational safety signage
Customized floor kits that promote social distance, organized traffic flow
When Bob Chapa heard about a lack of personal protection equipment in COVID-19 units, the Signarama Troy business owner decided to retool his sign-making equipment and make face shields.
It started as "just doing what was right," says Bob, who's donated Signarama-made safety gear to medical facilities. But it's evolved into Signarama Troy fulfilling in demand business safety needs for front-line industries: Healthcare, food service, factories and more.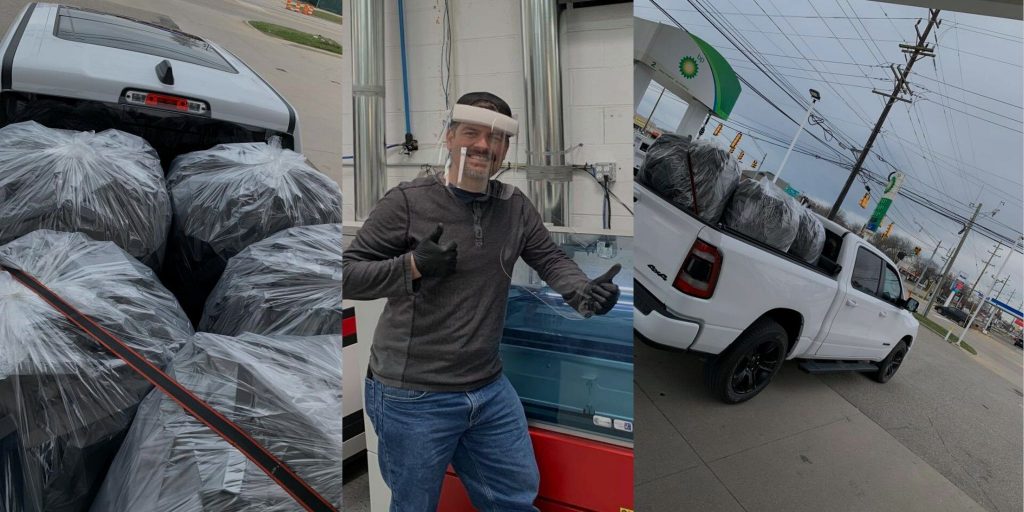 "My managers and I — four guys — stayed in the shop late, designing and engineering long-lasting, multi-use face shields. We wanted to help the community and get in front of every nurse, doctor, senior living worker, and first-line responder who did not have adequate equipment," says Bob, who has close friends who provide care for COVID-19-positive patients. To date, Signarama Troy has produced over 20,000 units of personal protective equipment.
Bob anticipates COVID-19 business necessities will shift as our society does. And he wants you to know that Signarama Troy is ready. 
New online shop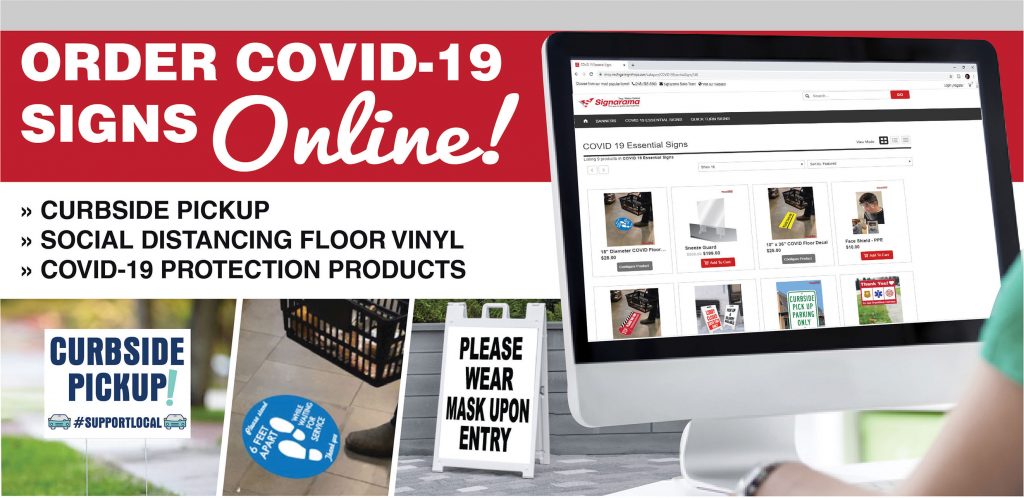 To connect people with their COVID-19-related business essentials instantly, Signarama Troy created the shop.michigansignshops.com website and has an entire team dedicated to working on those projects.
"The online web page made it easy to browse and share options that could be implemented in-store to make our customers and employees feel safe," said Jet's Pizza Marketing Team Lea, Steve Sims, who's one of Bob's clients. There's more about that project below.
There are other ways to reach Signarama Troy too. If you'd like to discuss your needs, email the Signarama Sales Team or call 248-585-6880.
Branded instructional signage
The Signrama Troy crew is assisting companies adapting to governmental "Stay at Home" orders.
For example,  they developed branded signage for pizza lovers who think, "Let's Get Jet's." Outside of many Jet's Pizza restaurant locations, there are Signarama A-frames letting customers know to stay in their cars and to call a listed phone number for a Jet's Pizza team member to bring the order out.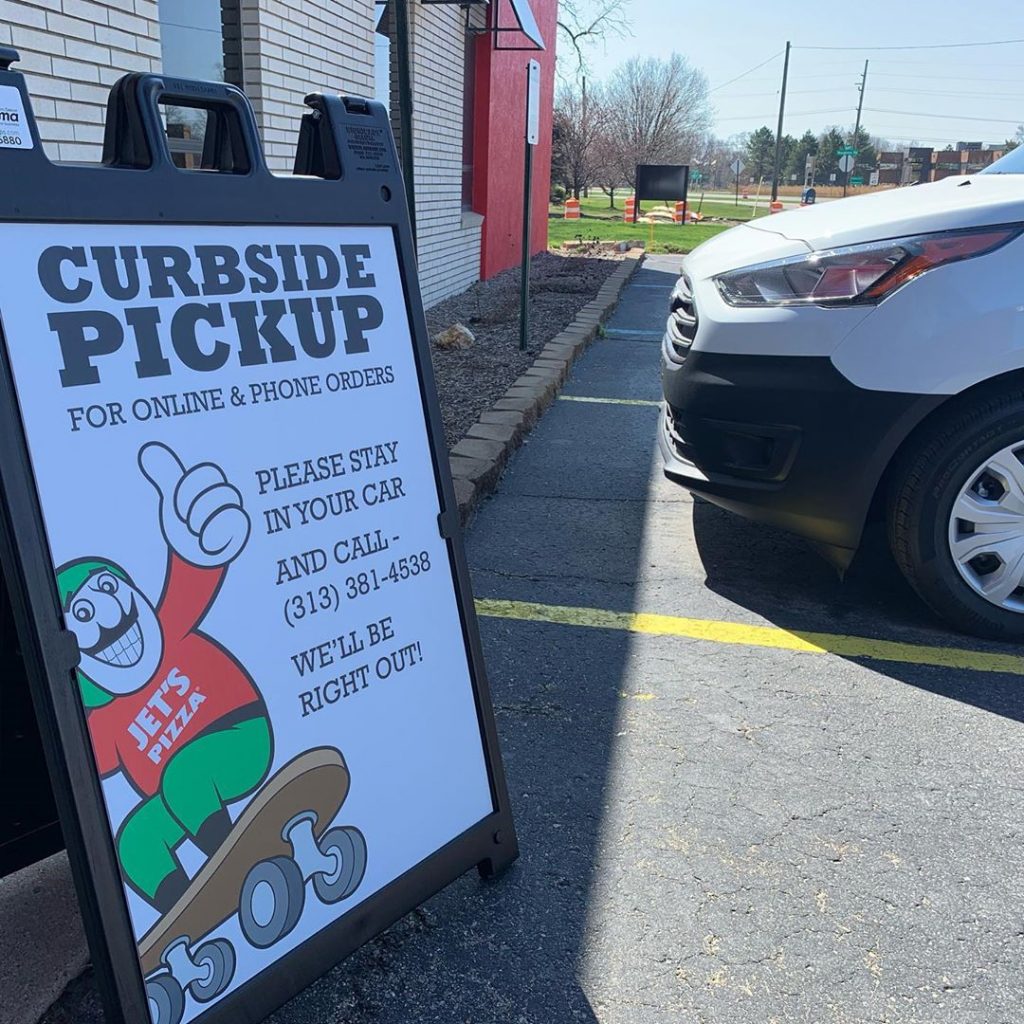 It's an important safety measure for both the workers and the customers. And, with a familiar look to employees and clients, customized instructional signage provides an elevated level of assurance that a trusted brand pays attention to detail.
Floor markers for social-distanced spacing and guided traffic flow
Signarama Troy is preparing businesses for the upcoming back-to-work transition too. 
Recently, International Autotech Company Veoneer contacted Signarama Troy to design branded safety signage for their Michigan offices in anticipation of re-opening once COVID-19 government mandates are lifted. 
After gathering information about the office's safety needs, the team customized a multi-faceted signage kit that provided attractive floor markers for social-distanced spacing, directions to guide employee traffic flow, and easy-to-read instructions on new safety measures.
"With the help of the team at Signarama Troy, we have prepared our technical center in Southfield for the Safe Return to Work of our employees," said Larry Walewski. "Their existing designs and collaborative spirit allowed us to quickly bring in the right solutions for our facility. Thank you from the Veoneer team."
And they can quickly create a customized plan for any industry, organization or business. Let Signarama Troy | Metro Detroit know how they can help with your safety needs.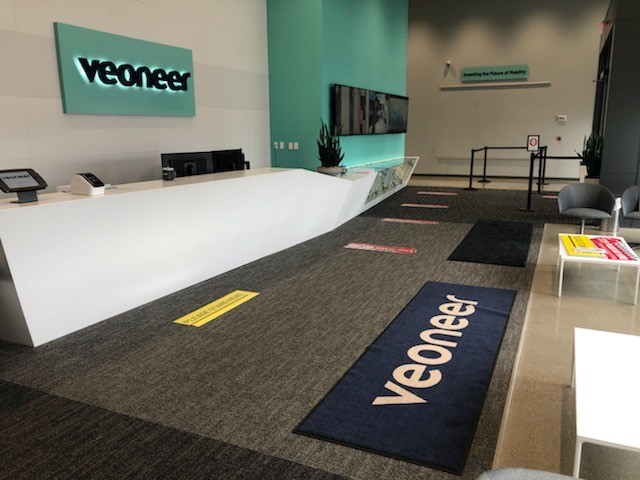 'We are fully prepared to help you'
Bob says doing what's needed for the community is at the core of  Signarama Troy | Metro Detroit's mission. We don't just print a predetermined graphic; our team listens and creates customized solutions for clients. And with the extra steps needed with COVID-19 concerns, Bob wants businesses to know Signarama Troy is there for the journey.
"We want to help you transform your brand. As we all adjust to whatever the new normal may be, we are fully prepared to help you prepare your business, factory, manufacturing plant, your life — I know what it's like to have a business — so you can visually change the way your spaces look with essential signage and keep your workers safe. Because, at the end of the day, we all need to look out for each other."