Whether you're a restaurant, cafe, pizzeria, or other foodservice establishment, you may be looking for ways to fill your space with holiday cheer. Naturally, your menu boards are one possible canvas. That's why we're going to explore the intersection of the holidays and your business' menu boards. 
First up—some tips for advertising your holiday specials for any type of menu board. Then, we'll dig into the different type of menu boards you might be using this holiday season (and all year round).
Play with puns for your holiday specials
That's right, whatever your restaurant's special is for the season, see if you can come up with a fun, catchy name or way to describe it. Even something that will make your customers laugh. You can actually get the whole team in on this by holding a contest for the best names for holiday specials.
Put on a festive air
You can use great colors and even strings of lights to make your menu boards advertise your specials in a sparkly and colorful way. For instance, a string of battery-powered lights could help draw attention to the seasonal treat advertised on your A-frame sidewalk sign.
Match with your vibe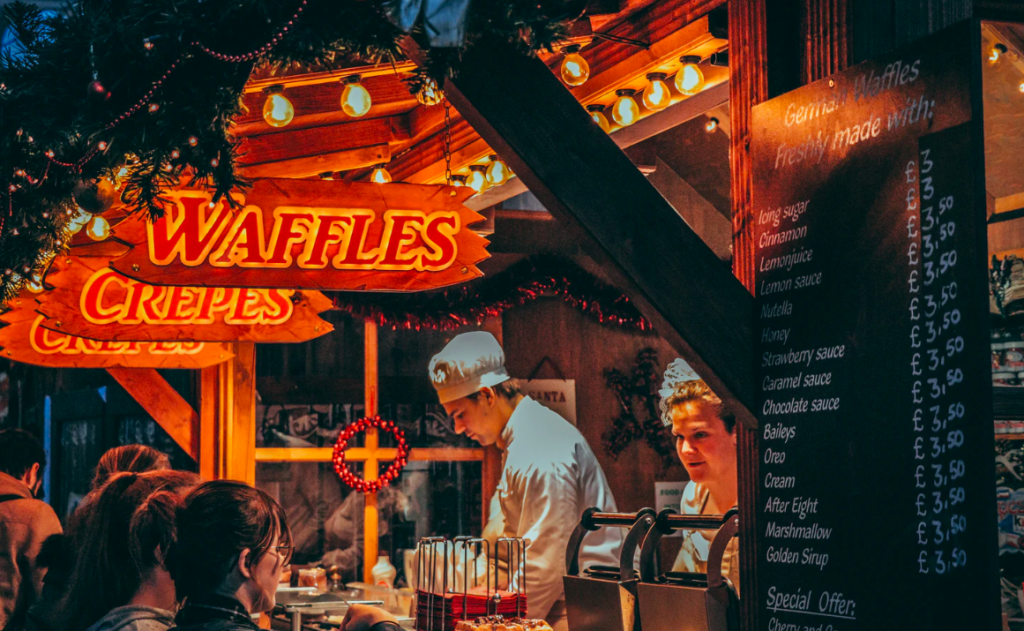 Of course, as much as we might recommend a joyous, festive look, do remember to link your restaurant's overall look with your signage. So, if you mostly have a black and white aesthetic (with metal like wrought iron, perhaps), then you'll want to make selections accordingly.
Now let's take a look at some of the menu boards you might be using this holiday season.
Static printed menu boards
For this type of board, while you don't change the messaging on the board itself, you can swap the boards in and out. At least, you can if you choose a menu board with a snap frame. This means, that for your holiday specials, you'll likely need a new board face that you can place in the frame. And the advantage to that is that it forces you to be intentional and to think in advance.
Reach out to your sign specialist ahead of time to get the ball rolling. Of course, it may be you're only aiming to make your menu board look special and you aren't actually changing your menu offerings. In that case, you may not need a whole new board. Instead, try dressing up what you have.
Fill in the board's open spaces with festive extras. Attach snowflakes, winter scenes, or sparkles. Or simply twine bubble lights around the board's frame. (Note that you should always ensure that your additions won't damage your sign face. Check with your specialist if you have any doubts.)
Dry erase menu boards
Naturally, when your menu board is designed with change in mind, you'll have a lot of leeway for your holiday specials. However, what you will need is someone with a steady hand and an artistic eye to make your menu board shine.
First step—choose the colors you'll use and purchase the appropriate markers. If you have a lot of board space to fill, be sure to buy enough markers to complete the project. Plus, you'll want enough to make changes or touch-ups as necessary. 
There are so many ways you could go with a dry erase menu board. You could take advantage of the base of your menu boards to color in a winter scene—complete with snowflake swirls and a snow-dusted outdoor vista. Or, you could simply use holiday colors to rewrite your usual offerings on the board. Holiday-themed questions that patrons can answer to win extra punches on their loyalty cards could also take their places on the board.  
Magnetic menu boards
Magnetic menu boards offer you a good chance to change your menu. Plus, you may be able to swap out the board's design with something more appropriate to the holidays. First, start by deciding what your holiday menu items will be and creating the corresponding magnetic strips. Once you know what your holiday offerings are, try laying the corresponding magnets out on a nearby table to mastermind the layout.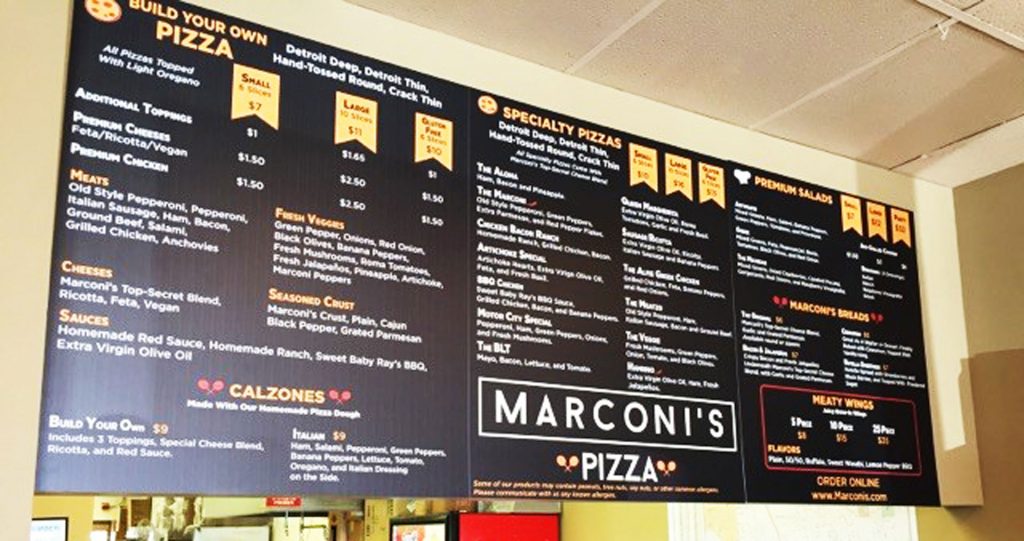 Now comes the fun part—adding holiday-themed magnets. Select magnets that match with your establishment's theme. And arrange the layout so that your holiday magnets promote cohesiveness and holiday cheer simultaneously. As we mentioned with static printed menu boards, you may want to think in advance for these boards. That way, you'll have time to choose and purchase holiday-themed additions.
Digital screen menu boards
If you're looking for a holiday menu board that allows for a lot of change, a digital screen menu board is just the thing. Plus, adding video to your menu board can even be an option with a digital board. So, if you already have a holiday marketing reel designed for your Facebook page, you may be able to reuse it on your signage.
For a cozy coffee shop, create a video with gently falling snowflakes to truly evoke some seasonal warmth. And don't forget to feature one of your signature offerings prominently in the video, too.
If you're a cafe, customizing your menu boards for the holidays could begin with high-quality photos of your food alongside holiday props. However, some restaurants may choose to keep food photos off the menu board—opting instead to use specific colors, fonts, and non-photo images to display holiday cheer.
Think ahead
Whatever type of menu signage you have, plan your holiday changes in advance. If you'll need to make purchases to get your menu boards prepared, that gives you time to do so. But even if you don't have to buy anything, planning ahead is still a good idea. It gives you time to roll out the changes by the proper date, without a stressful last-minute scramble. Need more seasonal tips for your signs? Check out How To Make Your Signage Seasonal Without Spending A Lot Of Money.