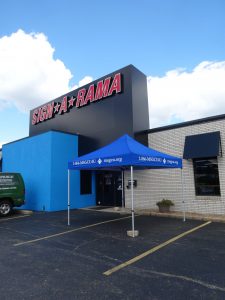 Get noticed with a customized pop-up tent from Signarama Troy! For your business or personal use, a custom pop-up tent is more than just an expense, it's an investment which represents you! From conception to completion our team of experts can help you create a tent just right for your needs. We have many options of colors and sizes to choose from.
Custom pop-up tents set up very easily and break down, with the canopy in tact, into a very compact space. Many come with a case for ease of transport as well. They are lightweight and set up in typically under 10 minutes.
When providing you with a quote for a customized pop-up tent, there are many factors that effect the price. Size, number and location of imprints, and colors all have an impact on costs. Common sizes for a pop-up tent are 10'x10′ and 20'x20′. You should choose the size based on where you are setting the tent up and how often you will be able to use it.
Any corporate logo, team name, group affiliation, or other type of image is right at home printed on one of our high-quality custom pop-up tents. Once you've selected the perfect canopy, we can take any graphic or image and turn a canopy into an amazing custom tent. Here's some ideas on where  you can use your pop-up tent!
Get noticed with a customized pop-up tent from Signarama Troy by using one at:
Trade Shows

Outdoor Concerts
Corporate Events
Car Shows
Food Tents
Festivals & Fairs
Craft Shows
Garage, Yard & Estate Sales
Graduation, Birthday & Anniversary Parties