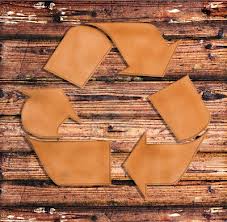 At Signarama Troy/Metro Detroit, we strive to use the latest and greatest materials to produce signs. Lately, the trend has been to utilize more materials which can be recycled or re-purposed. Our goal is to leave less of a carbon footprint and follow the trends of our industry. There are several benefits to recycling including We are currently working with a new company to aid our facility in recycling more and more materials we have as scrap. Our suppliers and vendors have taken notice as well, and are pushing these trendy products to us. The latest material we have come across is FiberMate™ Recyclable Rigid Print Media.
FiberMate™ is a wood fiber panel with a white water-based UV print coating known as Eco-Finish™ on both sides. The white Eco-Finish print coating is designed to provide excellent ink and paint adhesion on both sides allowing for double-sided printing application. Made in the USA, this material is made of 100% recyclable fiber and can be recycled in either "wood" or "paper" waste stream (assuming printing ink or mounting material is recyclable).
The material is very versatile in its applications. FiberMate™ Recyclable Rigid Print can be used for P-O-P displays, exhibits & kiosks, framing, and other signage. Available in two sizes, 3.2mm and 5.5mm both in a 4'x8′ sheet, the options are endless and large enough to accommodate just about any signage need. At Signarama Troy/Metro Detroit we are capable of using the composite sheets for digital printing, painting, saw cutting and routing.
Interesting Recycling Facts – Paper
Recycling 1 ton of paper saves 17 mature trees, 7,000 gallons of water, 3 cubic yards of landfill space, 2 barrels of oil, and 4000 kilowatt hours of electricity.  This is enough energy to power the average American home for 5 months.
The process of recycling paper instead of making it from new materials generates 74 percent less air pollution and uses 50 percent less water.
Manufacturing recycled paper uses 60 percent of the energy needed to make paper from new materials.
Over 73 percent of all newspapers are recovered for recycling. About 33 percent of this is used to make newsprint the rest is used to make paperboard, tissue, or insulation.
A little more than 48 percent of all office paper is recycled. This is used to make writing papers, paperboard, tissue, and insulation.