Need help designing signs for winter in Michigan?
There are only a few weeks left until winter and best of all, Christmas. It's a time of transition where the world around us changes in many ways. But what does this mean for your marketing and your signage in particular?
Signs are all about communicating with potential clients and existing customers. As a business owner, you should use all the opportunities you can to connect with your audience. To help you stay on top of your advertising, check out our tips for designing signs for winter.
The challenges of winter
Before we jump into the solutions, let's first define the problem so that you know what you're dealing with. Afterward, you will be in a better position to counteract them. So, what are the difficulties you are dealing with when designing signs for winter?
The slow season
First, many industries thrive in some seasons and stagnate in others. Sometimes this is because people only really use the products or services in certain types of weather. Otherwise, it could be the general off-season for tourism in the region. 
In winter, everyone might be fleeing the town or city for warmer weather. Unfortunately, this can leave seasonal businesses in the lurch. For example, companies that often struggle in winter are landscapers, pool cleaning services, ice cream stores, plant nurseries.
Many small businesses simply close their doors for the off-season. But in some cases, you could be able to take steps to turn things around.
Harsh and cold weather
One of the critical reasons why winter can be a slow season is the cold and harsh weather. Of course, the impact of this is enhanced in areas like Michigan, where winter can get rough. 
Aside from this, did you know that it can affect your signage too? Certain conditions can damage and wear down your sign.
You need to keep this in mind when you're designing the products.
Issues with visibility
Multiple weather conditions that are common during winter can decrease outdoor visibility. So, they can impact how well your audience can read your signs or whether they can see them at all. It's crucial that you plan to combat this with your design.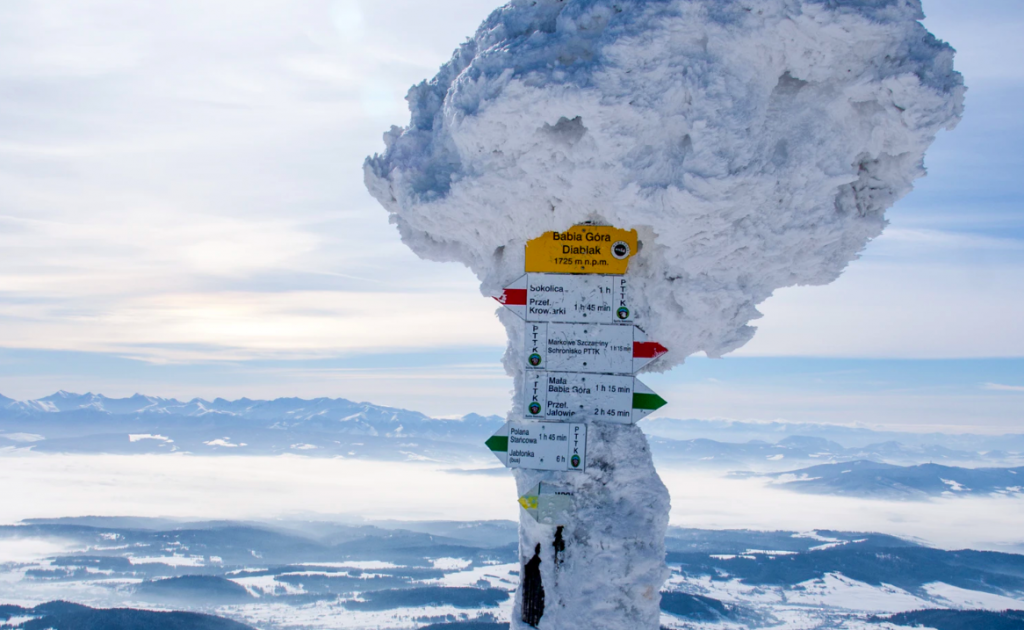 Conditions to watch out for are:
Snow
Fog
Blizzards
Ice storms
Sleet
Rain
High-winds
Seasonal competition
But undoubtedly winter isn't the off-season for everyone. It is the time when snow removal services, Christmas decor stores, ski stores, and more get the time to shine.
If you are in one of these industries, you need to leap to take advantage of this. 
That's why competition for seasonal products and services can be fierce. Therefore, you need to find ways to stand out from the pack.
Tips on designing signs for winter
In general, you want to keep these challenges in mind when you're designing your signs for winter. To do this, you need to consider different elements of the design, like colors, fonts, and graphics.
These hints will be particularly handy if you're designing new signs to be put up during or before winter. But you can also use them to change and update your existing signage, which is especially hassle-free if you are using digital signs.
#1 Go bright and bold
We've mentioned that visibility can be significantly decreased during winter. One way to compensate for this is by choosing the colors on your signs wisely. Preferably, you shouldn't use just any palettes. Instead, you should use colors that have been optimized for winter.
You want to use shades that stand out against the snow and the other conditions. In a winter wonderland, the environment is typically coated in white and other muted colors.
The critical phrase here is contrast. In other words, you should use colors that are strikingly different. That's why you want to stick with dark and bright colors on your designs mainly.
You don't want to limit your palette to only darker hues. But instead, use these strategically to make your signs more noticeable.
#2 Push the right products and services
Clearly, a central decision in designing signs is selecting the content. You have to decide carefully what the purpose of the sign is and what you want to communicate. One of the key goals is certainly advertising.
Generally, you should try to sell products or services that work all year round or even ones that are specifically tailored for winter. For example, offer a spiced hot chocolate drink or heater repairs.
Once you've set this in place, make sure that you brag about it in your advertisements. You want to let your community know that you're getting into the winter and festive spirit too. 
You should make these products a central part of your signage. Highlight them using text, colors, graphics, and layout.
#3 Seasonal greetings
Show your customers that you care by adding a seasonal greeting to your design. Add a small message that will warm their hearts. By doing this, you can encourage new customers to support your business.
You can keep it simple by adding "Happy Holidays" or something similar to the start of your text.
#4 Winter images and graphics
Typically, graphics and images are a crucial part of any signage. They aren't equally vital for all sign types. Images are usually less critical for informational and directional products but more so for promotional ones.
You can refresh your designs by adding some winter-themed graphics. 
Ideas of images that you can use are:
Snow, snowflakes, and ice
Santa Clause themed graphics
Christmas trees
Gifts
Fires and fireplaces
Warm and cozy clothing
Snowmen
Skis and sleds
Holly, mistletoe, and pinecones
Steaming hot drinks like cocoa
Decor items like garlands, ornaments, and string lights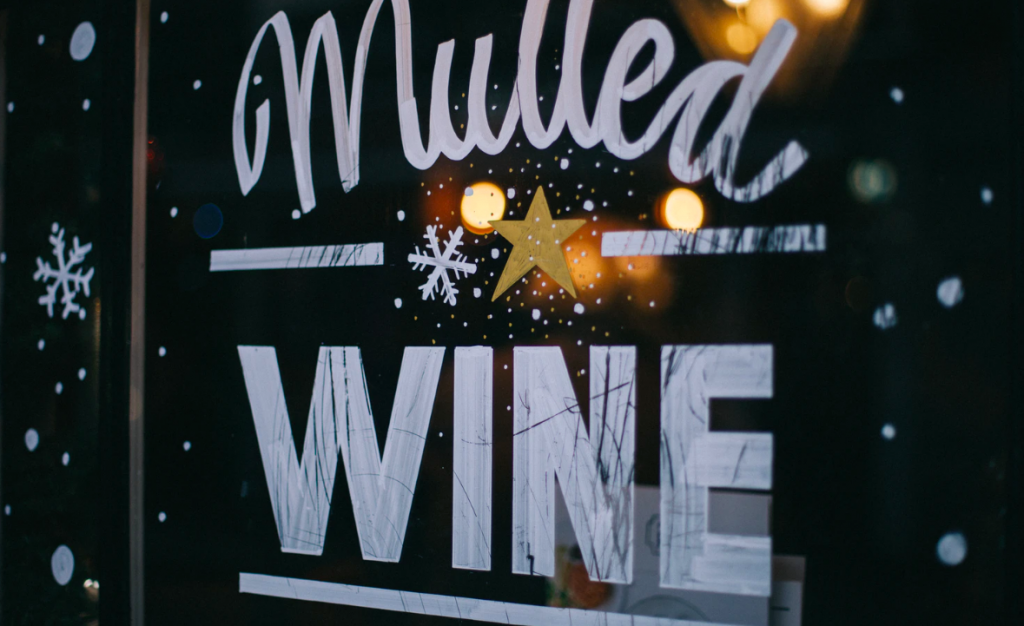 #5 Winter sports for the win
All in all, you should try to think of any seasonal event, activity, or theme that can help you make your designs relevant. In the US, you can't do this without considering sports. It's one of those things that brings people together and gets them excited.
So it's a fantastic idea to add some references to winter sports in your signs. You can do this by adding graphics, symbols, and showing support for your local team.
For example, you can embrace sports like:
Ice hockey
Football
Sledding
Ice skating
Skiing
Snowboarding
Basketball
Curling
#6 Light it up
Twinkling lights are synonymous with Christmas cheer. Just think of light shows, string lights, and flickering candles. So one way to show your business's festive spirit is to include some customized lighting on your signs.
Aside from this, illumination plays a critical role in making signage more visible even in the worst weather conditions. For this purpose, you want to choose lights that are brighter, more intense, and illuminates the majority of the sign.
A few lighting solutions to consider are:
Sticking some temporary strip lights to your signs
Using LED's
Incorporate an electronic message center
Hanging string lights over your signage
Adjust your lighting for shorter days 
Or use illuminated products like lightboxes, digital signs, or electronic message boards.
Many of these are more permanent design features. But others can potentially work as quick, easy, and temporary enhancements. 
It's essential that you also check all your existing lighting and replacing lights and bulbs that are beginning to dim.
#7 Craft your palettes
Next, you must choose and create a color palette that is ideally suited for either winter and the holidays or both. Have some fun and get creative with the colors that you use. You aren't stuck only using red and green to show festive cheer.
One option is to use wintery colors. In this case, we're specifically talking about themes that match the shades in the natural environment. First, you can use icy colors like icy blue and grey. Second, you can use earthy palettes like brown, orange, and dark grey.
Another option is to go with warm colors. Doing this will help you to create pleasant associations with your business. They will be drawn to the warmth. Colors like red and orange will work well. Dark jewel tones are also an incredibly popular choice.
Nowadays, winter and the holidays are often associated with a bit of sparkle and shine. Therefore, you can incorporate glitter and metallic colors into your designs.
Plus, you can evoke a winter wonderland look and feel by using appropriate palettes that include white, light grey, cream, and pastels like light blue and peach.
If you want more ideas, take a look at these winter-themed color palettes.
#8 Wintery fonts
No matter the type of sign, using seasonal fonts can be the perfect way to increase their relevance. 
Luckily, there is a huge variety of ready-made fonts available online that you can use. You might need to pay for some of them. But others are on-the-house.
The following are fonts that you should keep in mind:
A gothic typeface called Atreyu
French Script
#9 Festive touches
You don't necessarily have to go all out with your winter and Christmas themed designs. Instead, including tiny touches can make all the difference.
One fun idea for adding some holiday flair to your signs is by temporarily adding festive touches to your logo. You don't have to change it completely, and you can revert to the old one afterward. 
However, it can work well to modify it by, for example, adding Christmassy or wintery colors, graphics like snowflakes and sprigs of holly, and so on.
#10 Choosing the best signs for winter
Overall, when you're putting up new signs in winter or just before it, you should be careful about the ones you choose. Unfortunately, not all signage stands up as well as others during cold and harsh weather.
Yes, your sign making company can produce most signs with weatherproof materials and other protective measures. But some types will still work better than others.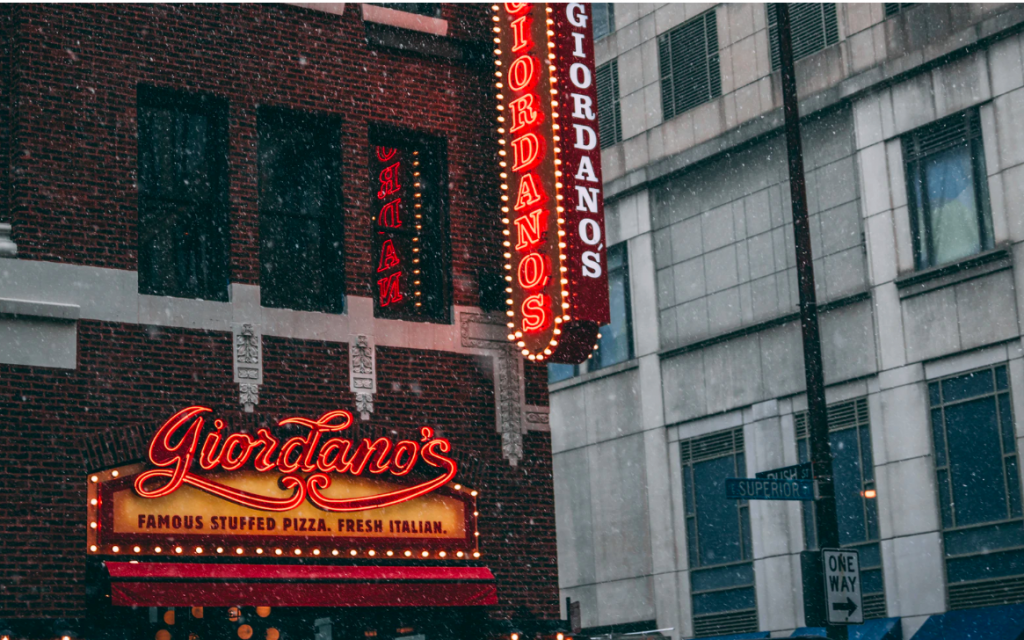 A few of the options that we recommend are:
Any illuminated signs like channel letters, LED signs, or lightboxes.
Digital signs such as electronic message boards so that you can easily change the content and because they are great at drawing attention.
All the different kinds of indoor signs.
#11 Weatherproof materials
Additionally, you need to consider your hardware as part of the design process. Preferably, you only want to use materials that can withstand the cold and harsh weather during winter.
Generally, you should ask your sign company for help and advice.
If you are given the option to choose the material for your signage, we recommend the following weather-resistant materials:
Aluminum
Stainless steel
Dibond
Alumalite
PVC
Acrylic
#12 Protective measures
Besides choosing durable materials, there are other protective measures that you can try. These can keep your signs safe, working, and in the best possible shape.
Tips include but aren't limited to:
Securely fasten and mount all your signage
Apply water repellent to your signs
Mount your signage out of the wind.
Regularly clean any dirt or debris from the boards.
Move vulnerable signs indoors when a storm starts.
Prevent moisture build-up
#13 Seasonal promotions
Seasonal offers, sales, and events are a great way to spice up your business during the slow season. These limited promotions work really well to entice customers to buy your products or services.
Therefore, it's important that you advertise them on your signage. You can include related information and images in the design.
24/7/365- Make every season count
'Tis the season to connect. Design your signs or update your old ones to show your community that you are getting ready for winter with them. Plus, you can show them that you are as excited about the festive celebrations as they are.
You can get much more out of your boards by designing them with year-long use in mind and following some of our tips. If you want to add more lighting to your signs to achieve this, take a look at three fun ways to use illuminated box signs + design tips.